Developer - Resources
For every stage of the development process, there's a resource ready to help you. Learn how to leverage various features of the Zoho Developer Console to build your application, with our free documentation, courses, ebooks, and webinars.
Vertical App Development For Beginners

This course will walk you through all the necessary components to build your very own industry-specific application with Zoho Developer.

Go To Course

An Introduction to Widgets

Learn how to boost your app's functionality by adding widgets. Register for this course to access widget tutorials, sample source codes, and hands-on exercises.

Go To Course
---
The Vertical App Handbook
This ebook provides an overview of Zoho Developer's Vertical Program, and explains how you can leverage the console's features to build your B2B enterprise. With hands-on exercises, this ebook is more like your own workbook. You'll also get a deeper understanding of Zoho Developer's components.
Download PDF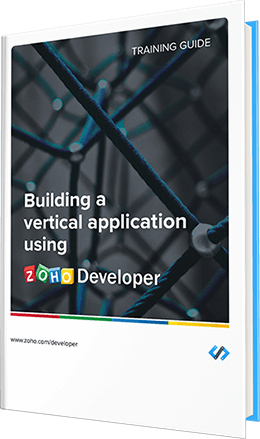 ---