Attract
Generate more leads and sustain their interest with live chat.
Assist
Help clients find properties based on their needs.
Retain
Support clients through their hunt to retain them or even get recommended.
Here's how Zoho SalesIQ helps secure your place in real estate
Rank your prospects with lead scoring
Gauge website visitors by analyzing time spent on the site, the pages visited, the number of clicks, and actions taken to qualify them as hot or warm real estate leads. Connect with your most valuable prospects to increase your chances of sealing the deal.
Automate your prospect engagement
Automatically set up chat triggers to reach out to your pre-qualified leads with information tailored to suit their requirements and preferences. Share local area information and relevant property listings the instant they're on the market.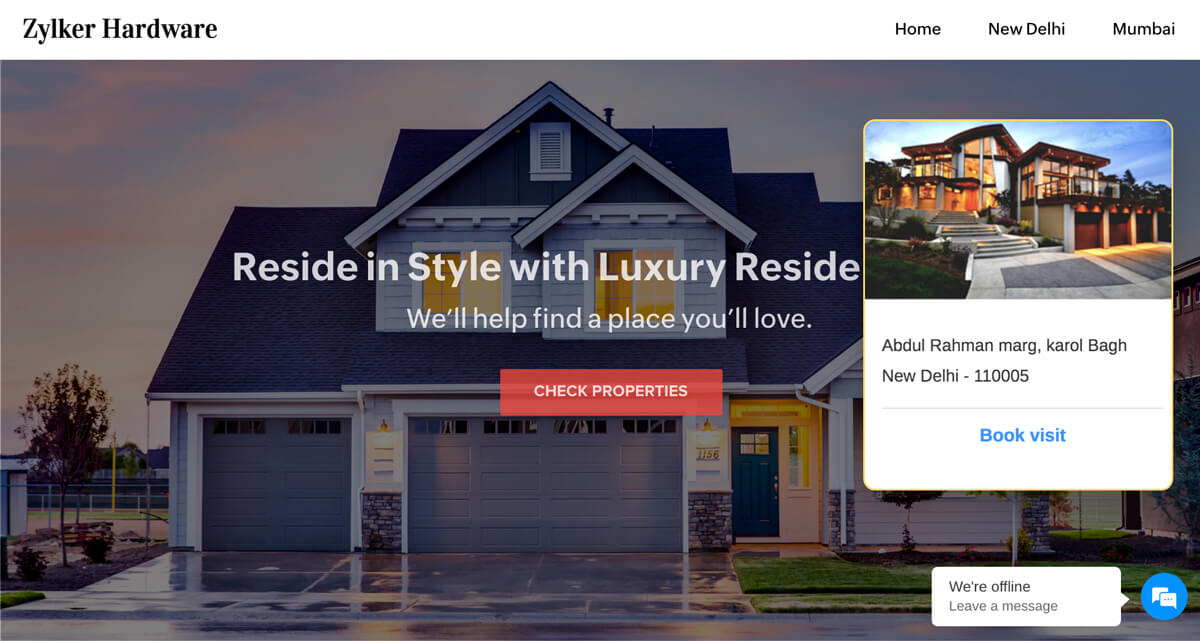 Bridge the client-dealer gap
Answer client queries instantly every step of the way regarding listings, property details, and contract conditions using Zoho SalesIQ's live chat. Provide expert opinions, share files, and even easily switch to an audio call when a chat no longer suffices.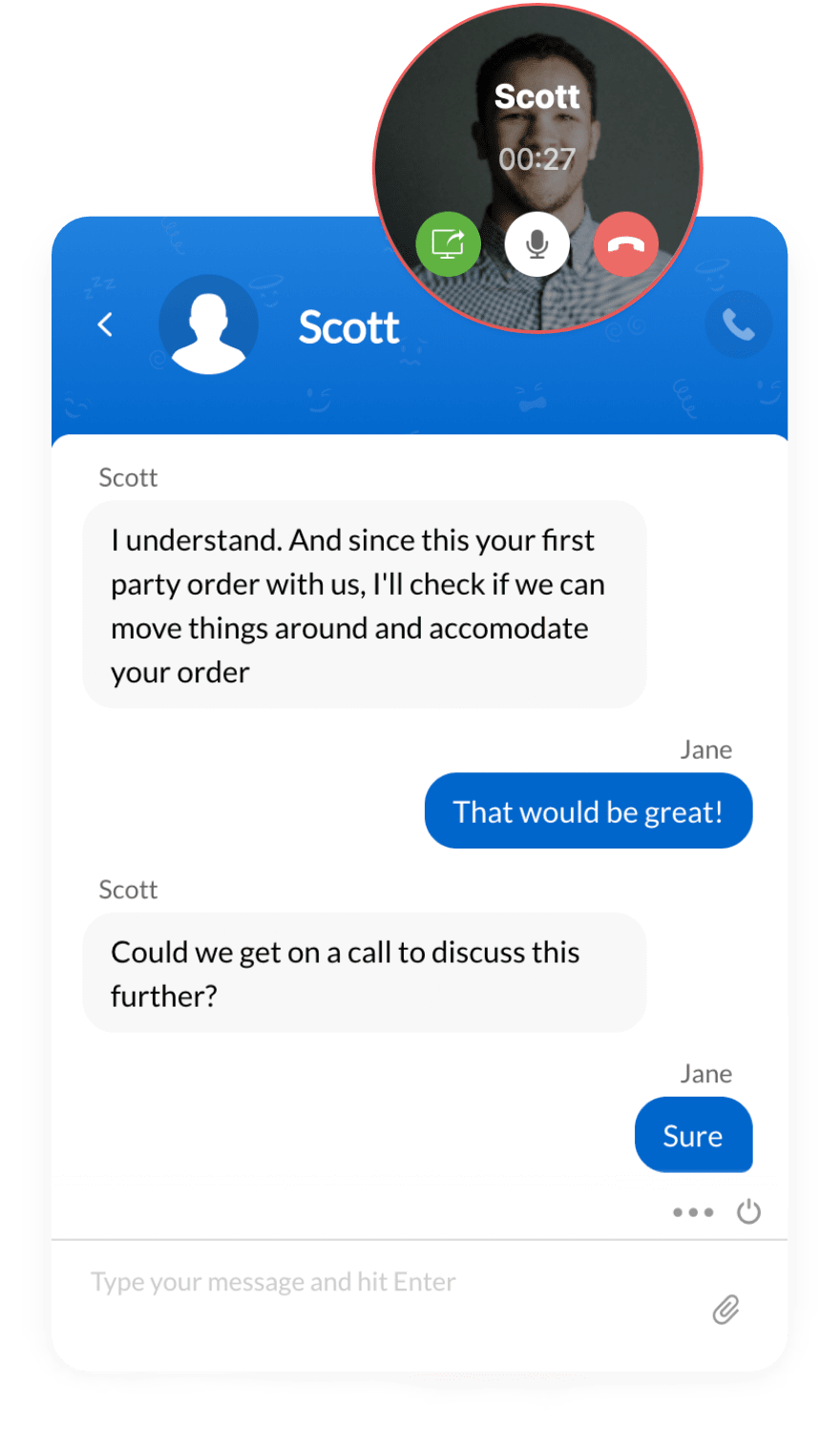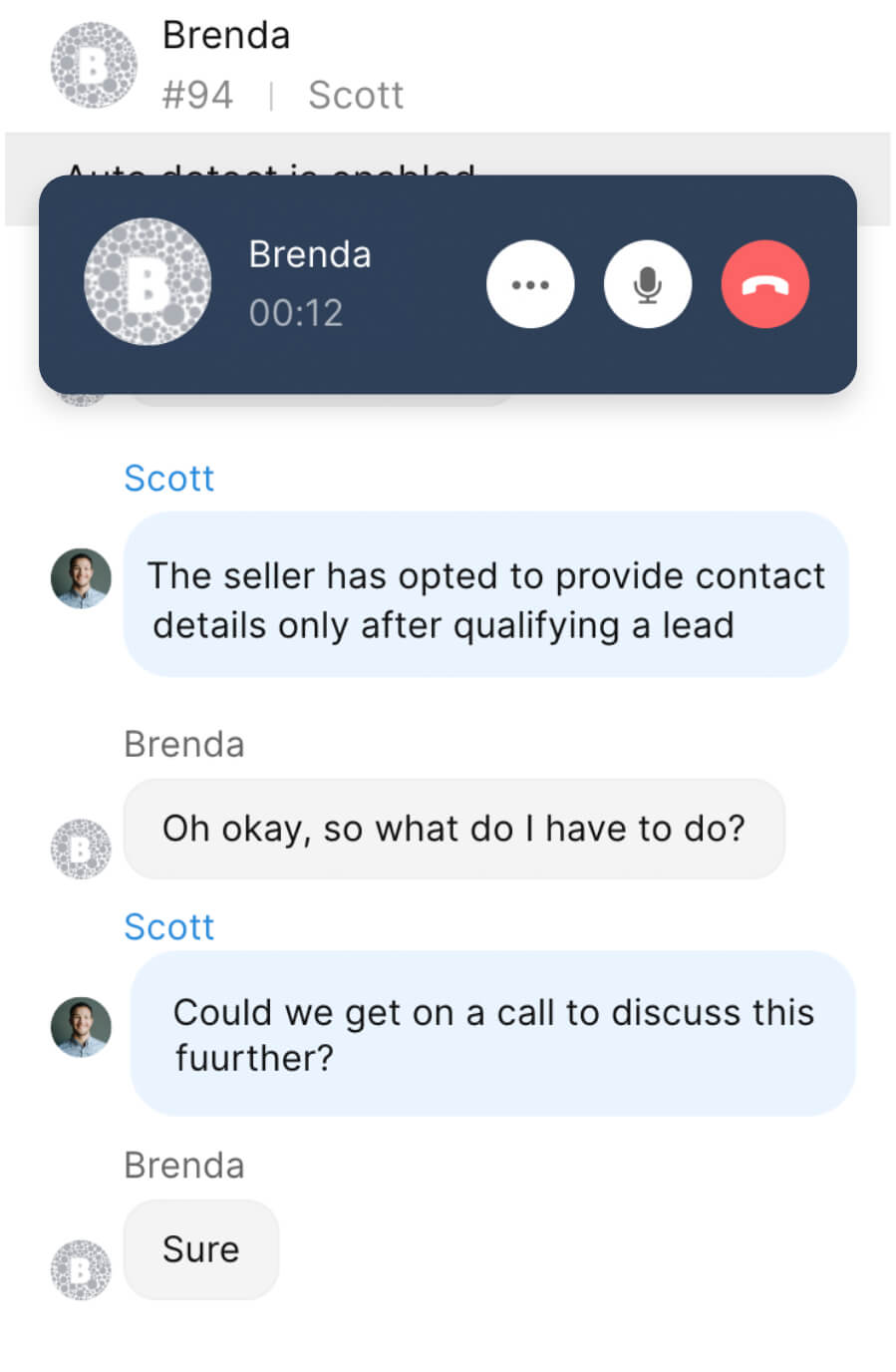 Be available for your app users
Your real estate mobile app users may also have questions about properties when browsing. Let them contact you at the tap of a finger by add a live chat button to your mobile app using Mobilisten—our mobile SDK available for Android and iOS apps or apps built using React Native.
The one-stop solution for a diverse audience
Use Zoho SalesIQ's live chat plugin for WordPress to help your website visitors find the perfect property, list their own property, or understand legalities, all in real time.
Learn more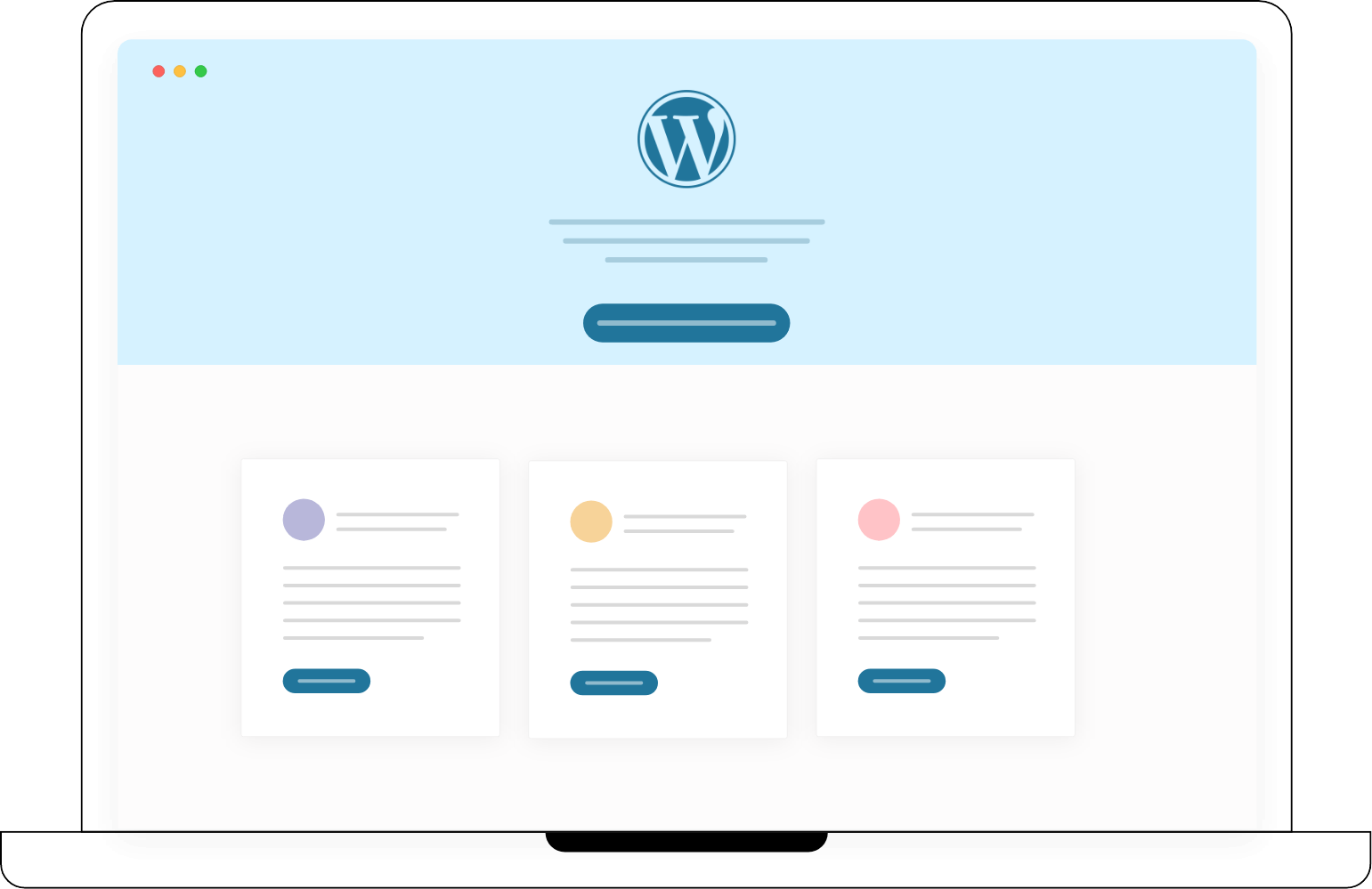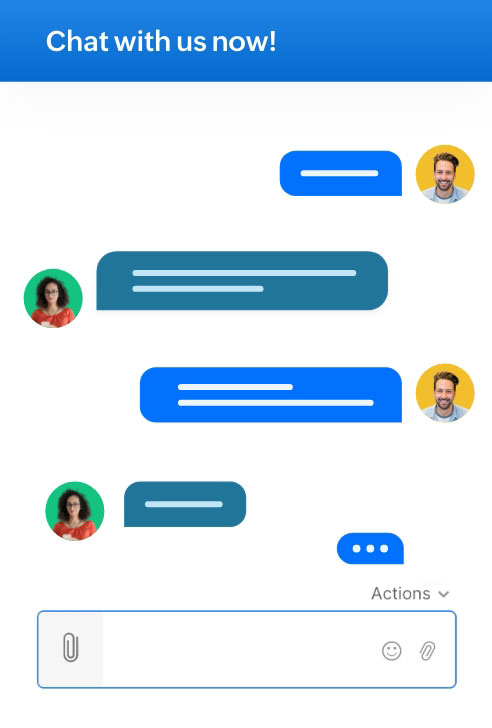 Go beyond website and mobile app chat
Don't restrict your client engagement to just your website and mobile app. Give your clients the convenience of chatting with you from their preferred messaging channels. Connect your instant messenger accounts with SalesIQ to bring all your client communication into one place.
Learn more
Set up a virtual realtor to help clients
Easily deploy chatbots using our codeless bot builder and recommend properties to prospects based on type of property; location; proximity to schools, hospitals, or markets; and their overall budget. Chatbots can also help schedule site visits. Our AI-driven Answer Bot even understands and answers basic questions using your resources module.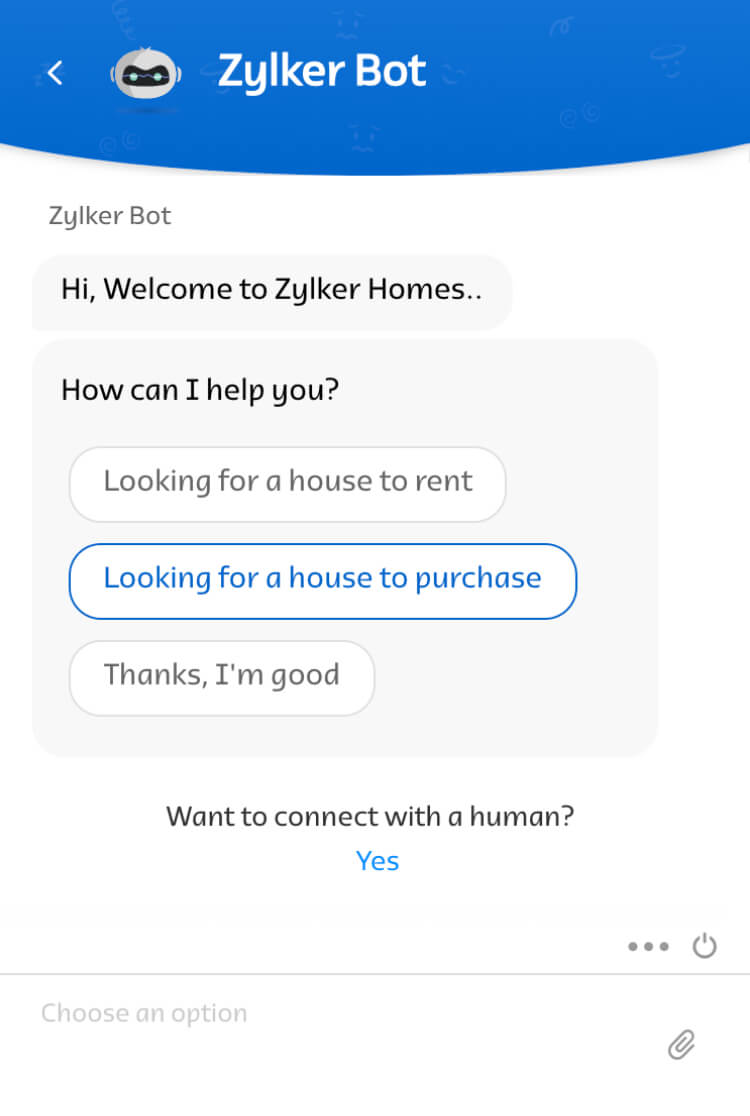 Enable clients to look up answers
Add a library of frequently asked questions or topics such as brokerage conditions and fees; any hidden costs; documents needed for a lease, purchase, or sale; and the like. Clients can access these right from the chat window before reaching out, or they can be used by your Answer Bot as responses.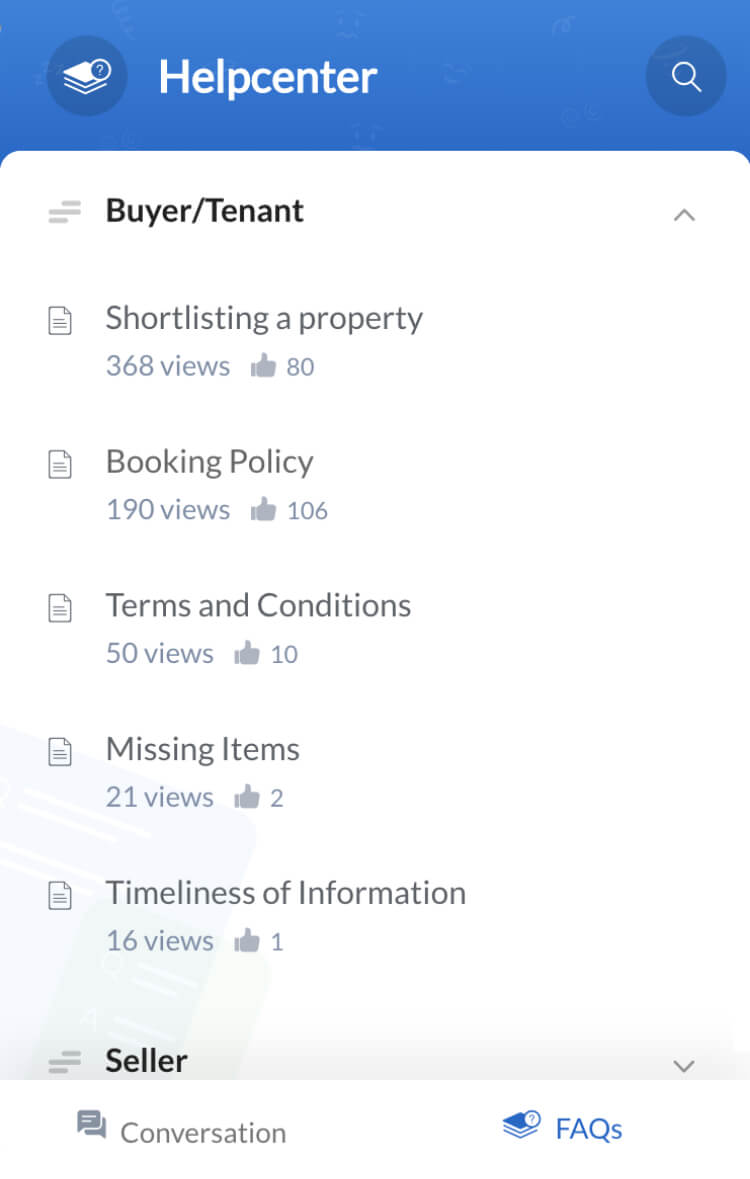 Route chats directly to the right people
Improve client experience by reducing annoying transfers between agents and cutting resolution time. Let users choose the department they want to connect to, or use smart chat routing rules to instantly direct them to the right person.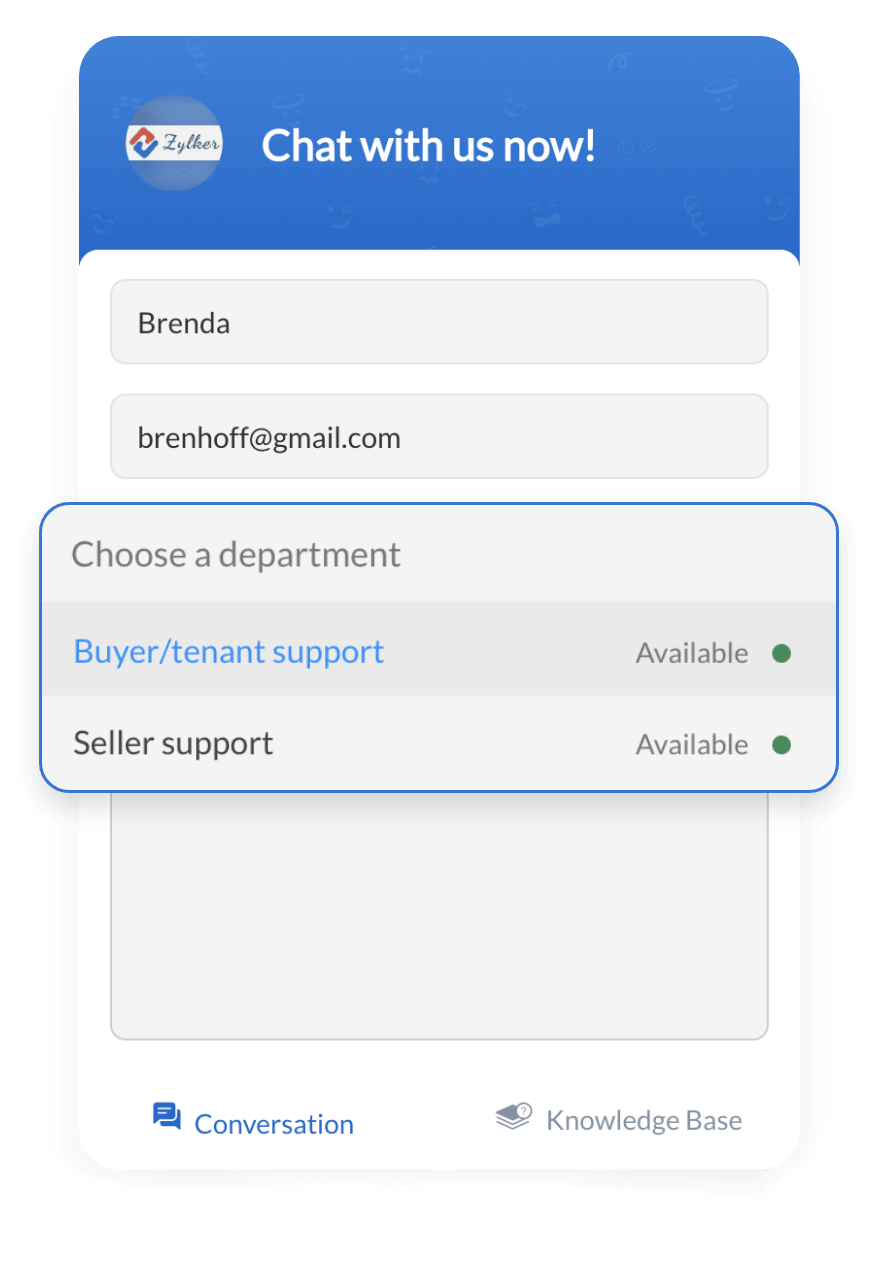 Save time with Typing Preview and Canned Responses
See what your clients are typing even before they hit send, and be prepared with answers. You can also save greetings, common answers, and questions as Canned Responses and invoke them with a shortcut during chats.
Support expats in their own language
Speaking your client's language is so much more important when your target segment includes people looking for a home in a new state or country. Delight all your clients by responding in their native language with automatic chat translation.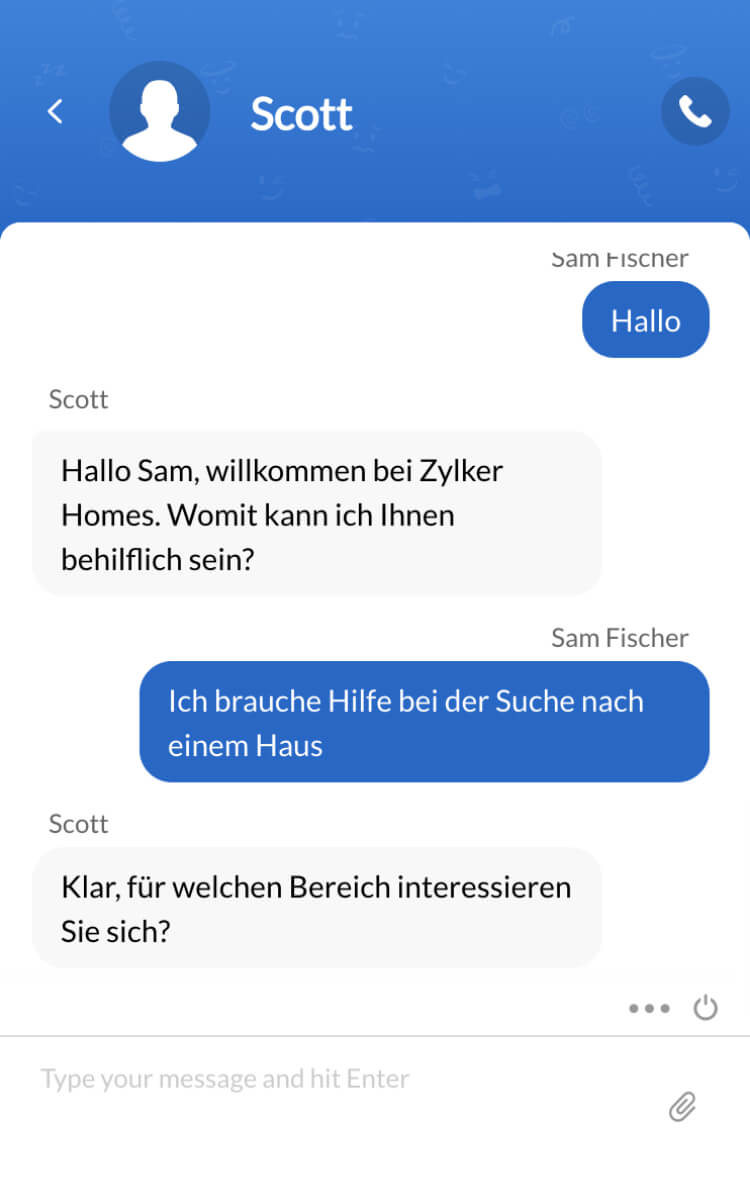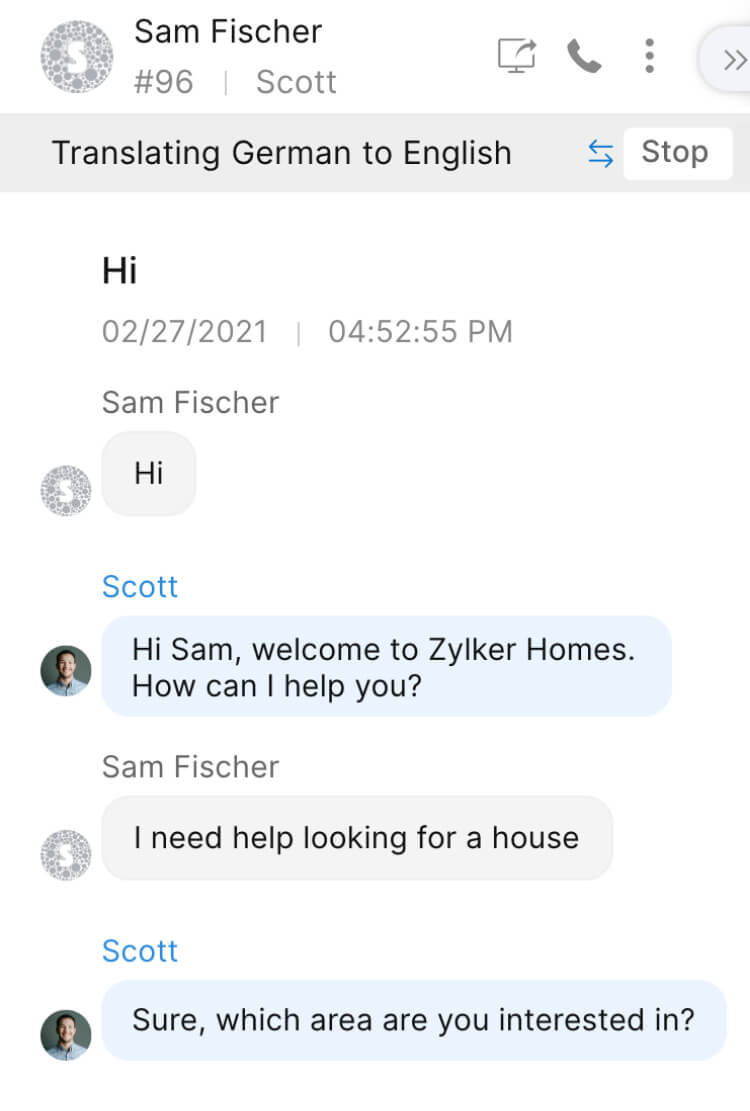 View and manage client data from a single place
Stay up to speed with your prospect and client information, pages viewed, appointments, and their past chats and engagements with your business—all without having to navigate multiple software tools. You can even push data to CRM, update support tickets, or schedule or move a visit.
Retarget your leads with email campaigns
At times, clients look at a property or even block one and then go cold. Integrate your Zoho Campaigns account with Zoho SalesIQ and set up rules to add leads to relevant mailing lists. You can even track visitors coming to your website from a particular email campaign and nurture them contextually.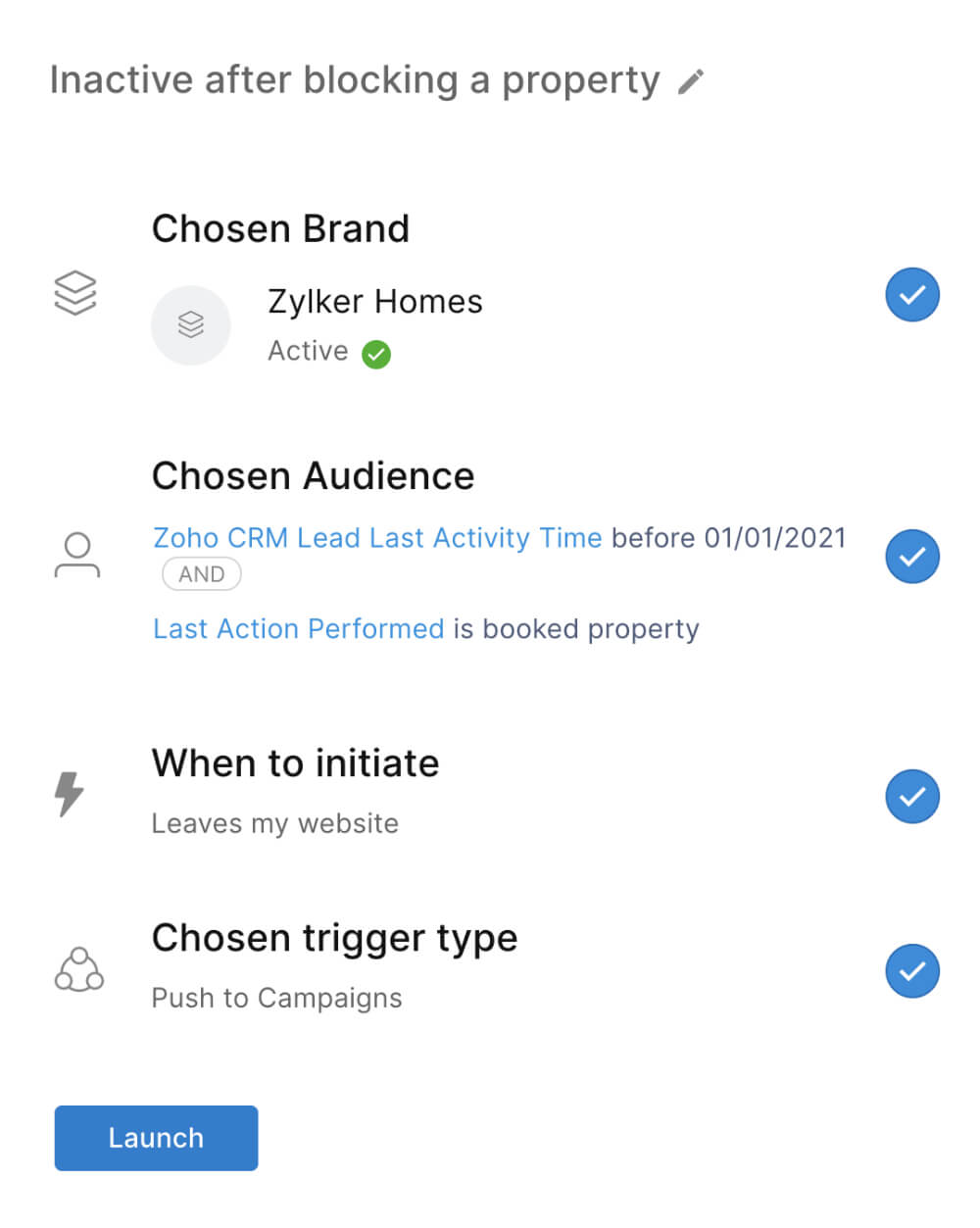 Gather client feedback for better service
Your current and past clients can serve as some of your best advocates and lead generators. Get client feedback after every interaction so you can strive to make a good impression and retain them or even be recommended to everyone in their social network.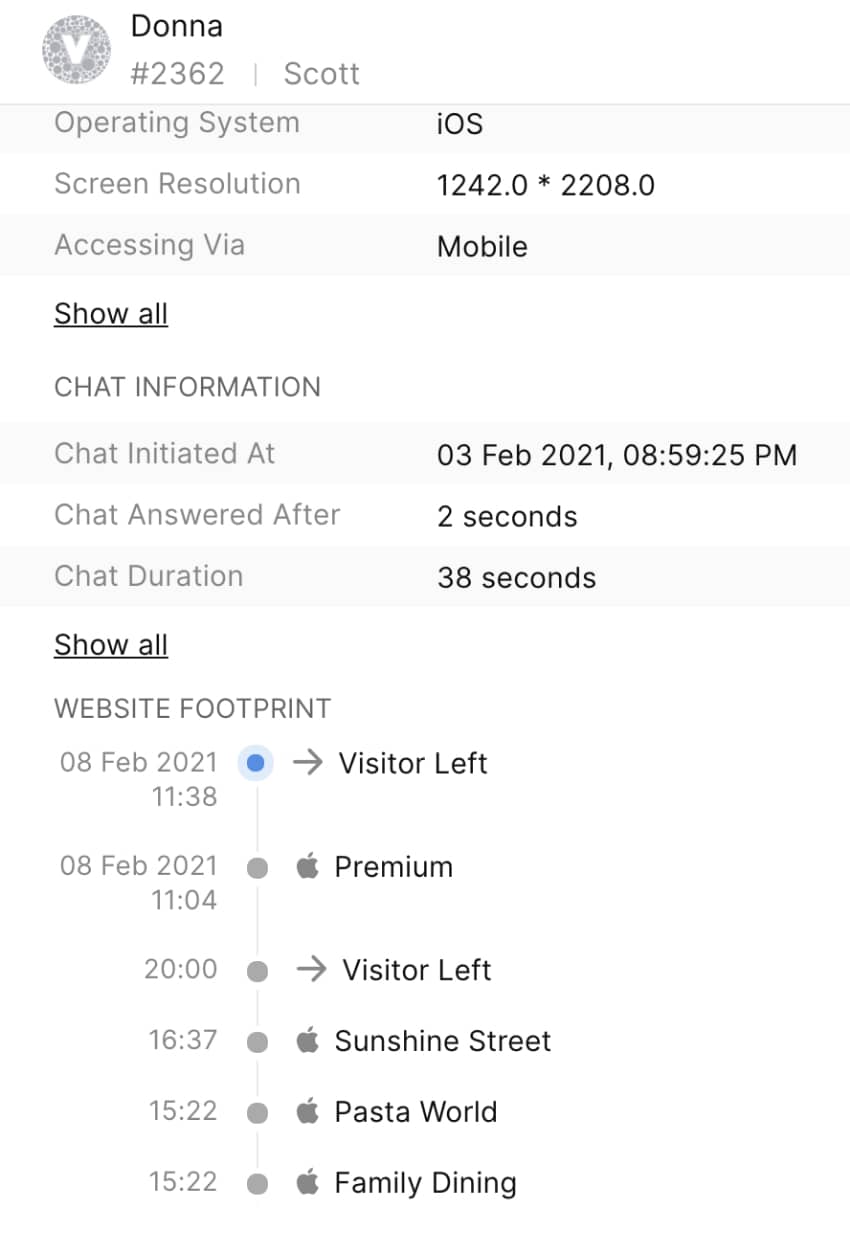 Generate real estate leads and keep up with trends and demands,
all while providing quality support!
Get started now