Here's why Zoho SalesIQ is the best choice for your startup
Easy setup and intuitive UI
Smart features at the best price
Works in sync with your tech stack
Understand your website visitors' online behavior
Tailor your offerings and change how you interact with your customers using insights including your website traffic, visitors' footprint, time spent on certain pages, and page actions. Amaze returning visitors with personalized messages based on all their interactions with your website.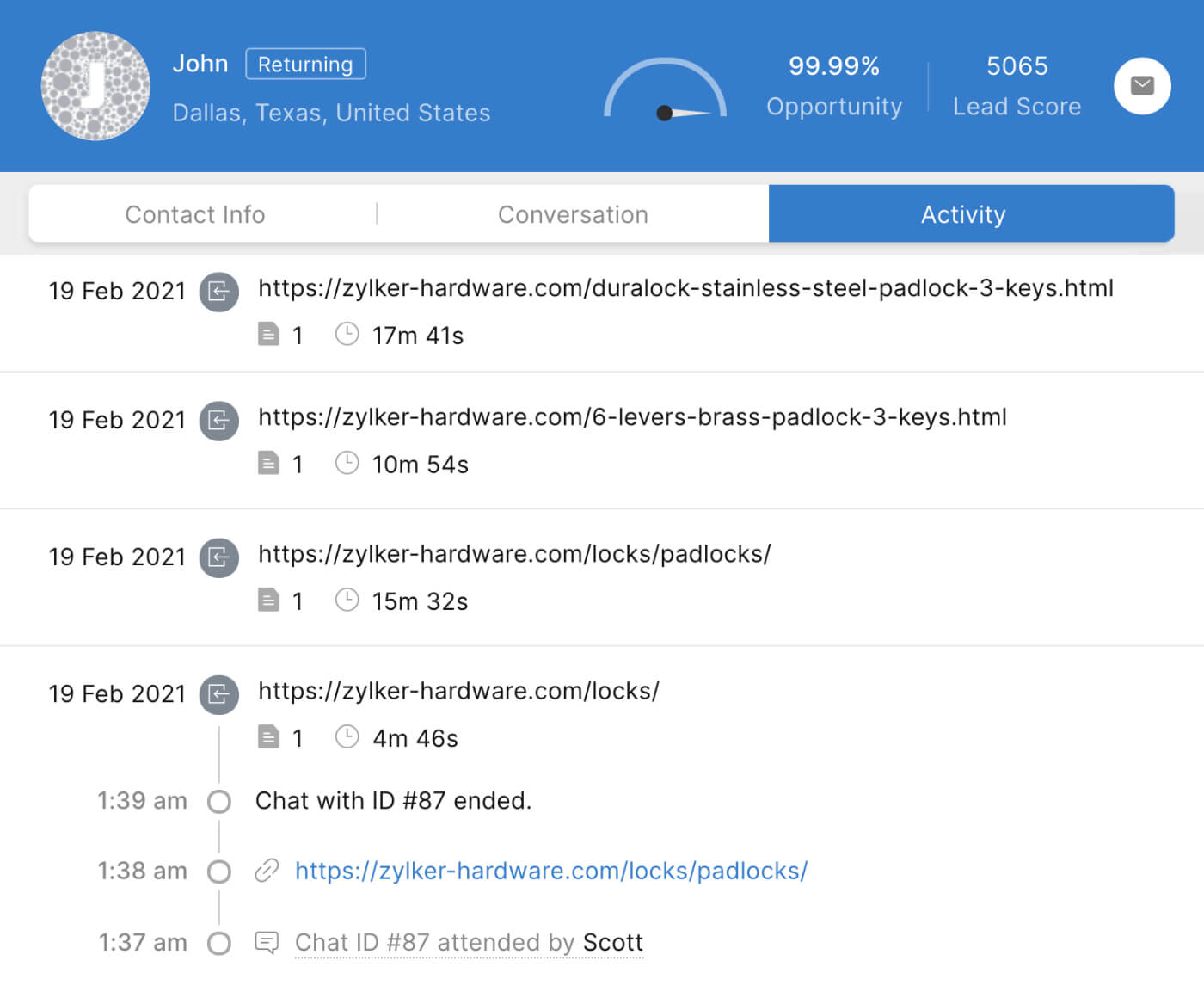 Prioritize hot prospects with lead scoring
With limited resources and staff, it's imperative that you focus on high value targets so you can make the most out of what you have. Zoho SalesIQ scores your leads based on your criteria for what constitutes a valuable lead so you know whom to nurture.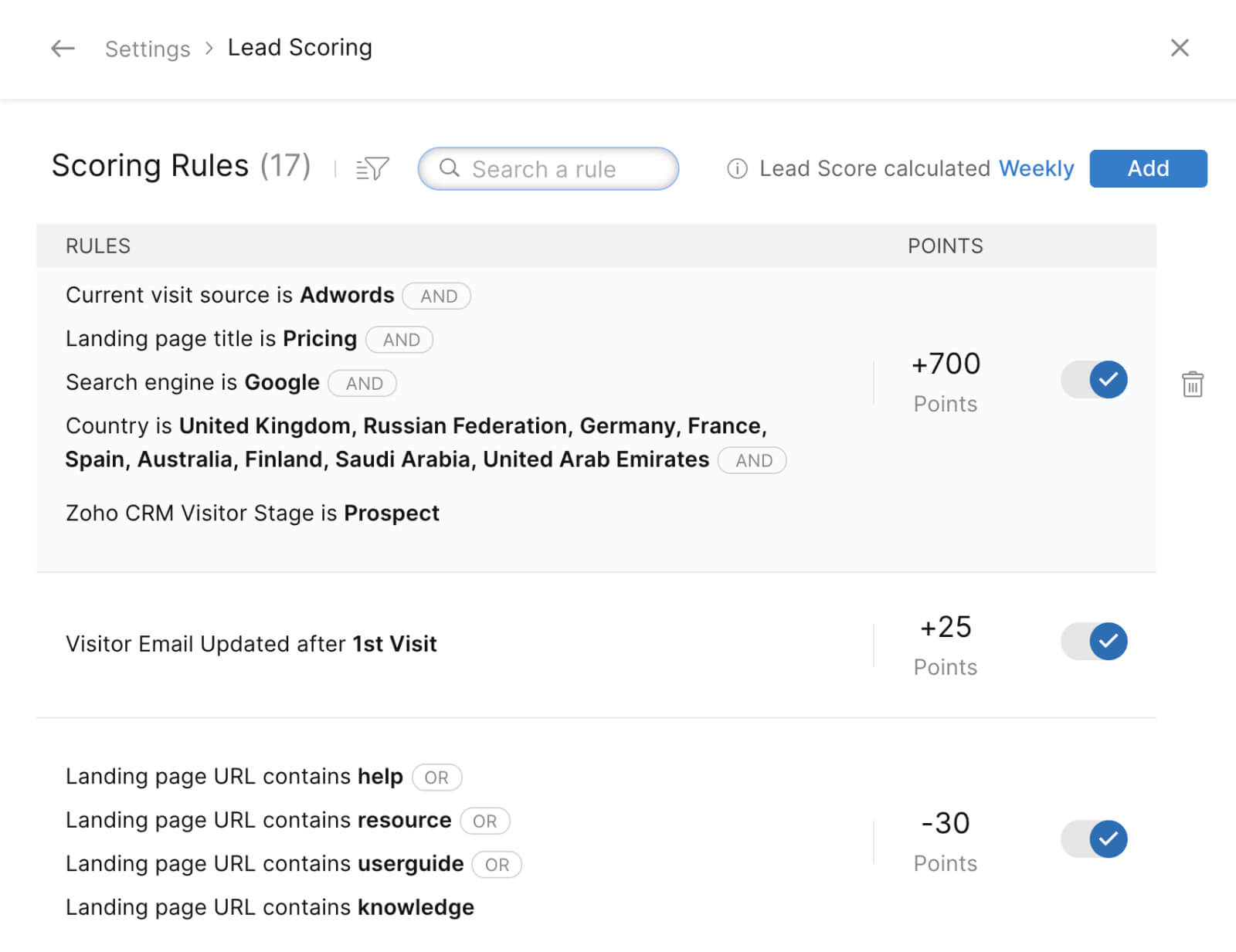 Gain your prospects' trust with feature-rich live chat
As a startup, you're the new kid on the block, so gaining prospects' trust is absolutely necessary. Adding live chat to your website and mobile app means prospects can easily reach you and you can actively engage those who otherwise may not get past a casual visit.
It comes with voice note and audio call with screensharing capabilities that make communication easier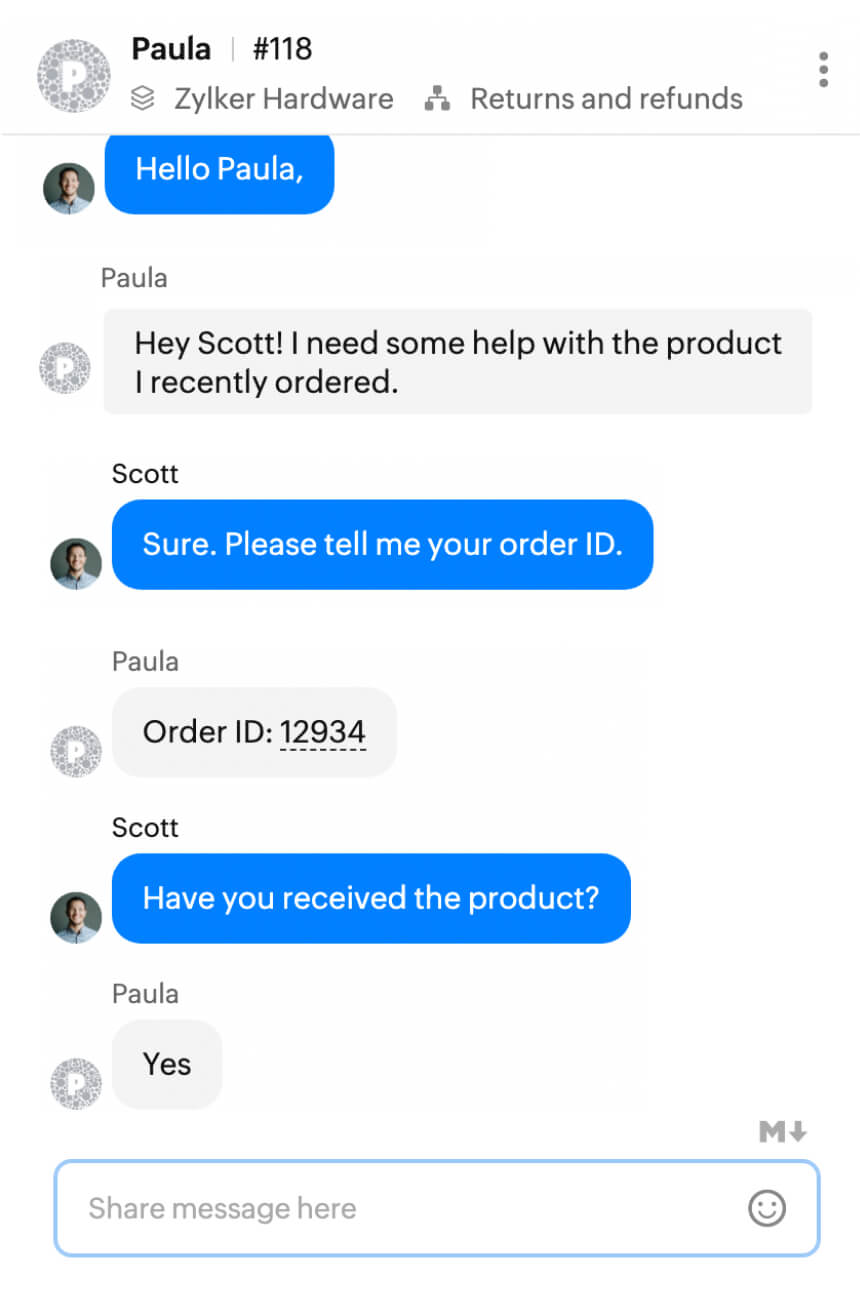 Attract more leads with our live chat plugin for WordPress
Turn your WordPress website or blog into a lead generator with SalesIQ's live chat plugin for WordPress. Create awareness among first-time visitors and engage your existing subscribers.
Learn more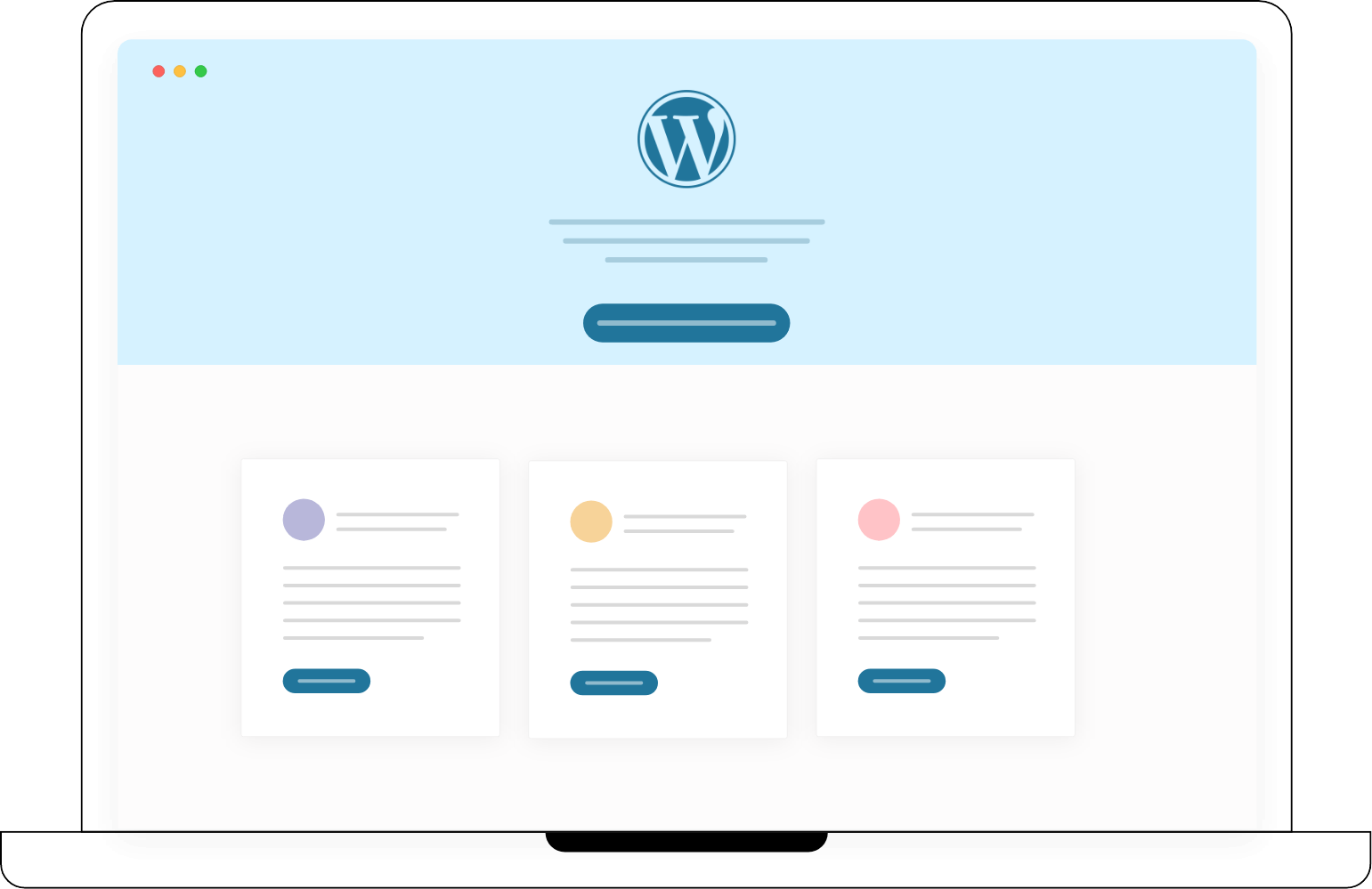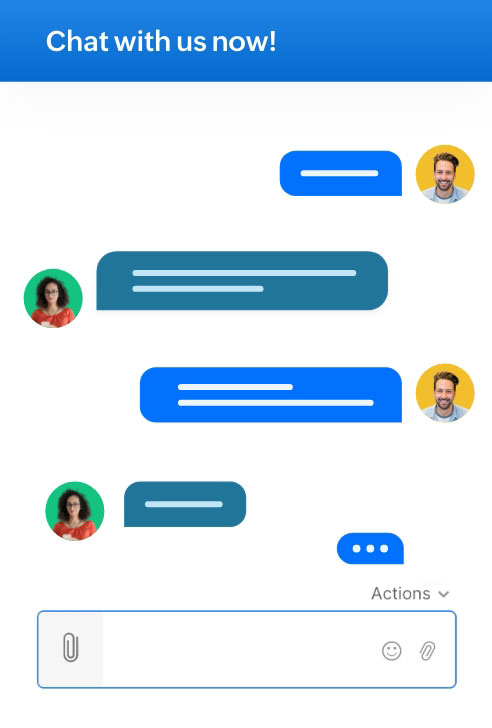 Boost your customer engagement with channels
Tap into the massive instant messenger user base by setting up your own instant messaging channels. Connect your startup's Facebook page, Telegram, and Whatsapp accounts with Zoho SalesIQ and assist prospects and customers on these platforms.
Learn more
Stand out with your mobile app engagement
Make your mobile app more than just an item on your checklist. Get a head start and cater to your mobile app users right when they need you by adding Zoho SalesIQ to your mobile app with our mobile SDK, Mobilisten.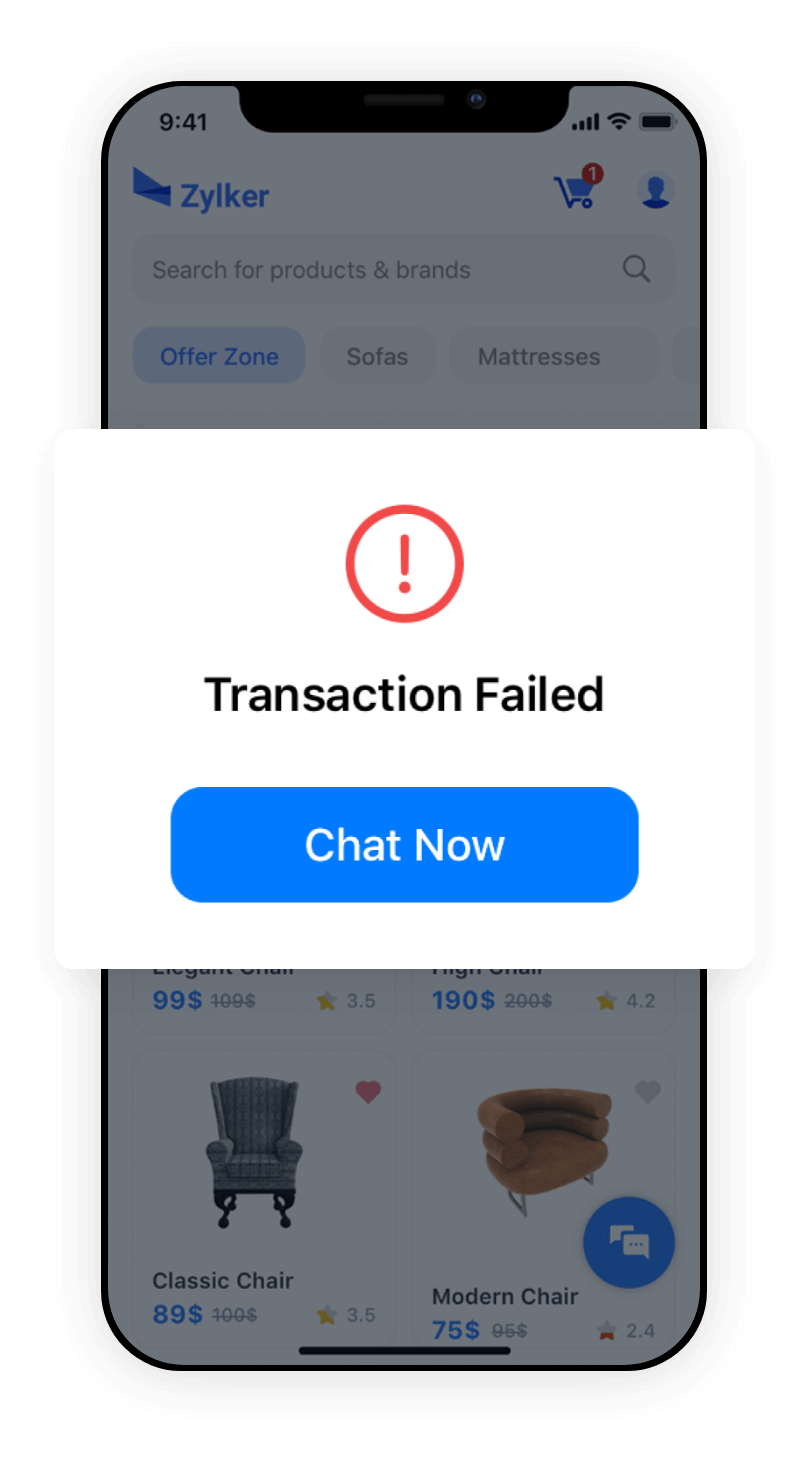 Set up a resource library
Aid your AI bot and enable customer self-service with a library of answers to commonly asked questions. That's not all! Queries that aren't addressed in your FAQ library are recorded and their occurrence count listed so you can keep your resources updated.
Articles

 

Add detailed help documents that are available within the chat window so customers can look up topics they need information on. This frees you to handle more unique and specific queries.

FAQs

 

Add short answers to frequently asked questions your Zia-powered bot and agents can use to respond to customer queries. You can also link FAQs to related articles that will be displayed alongside.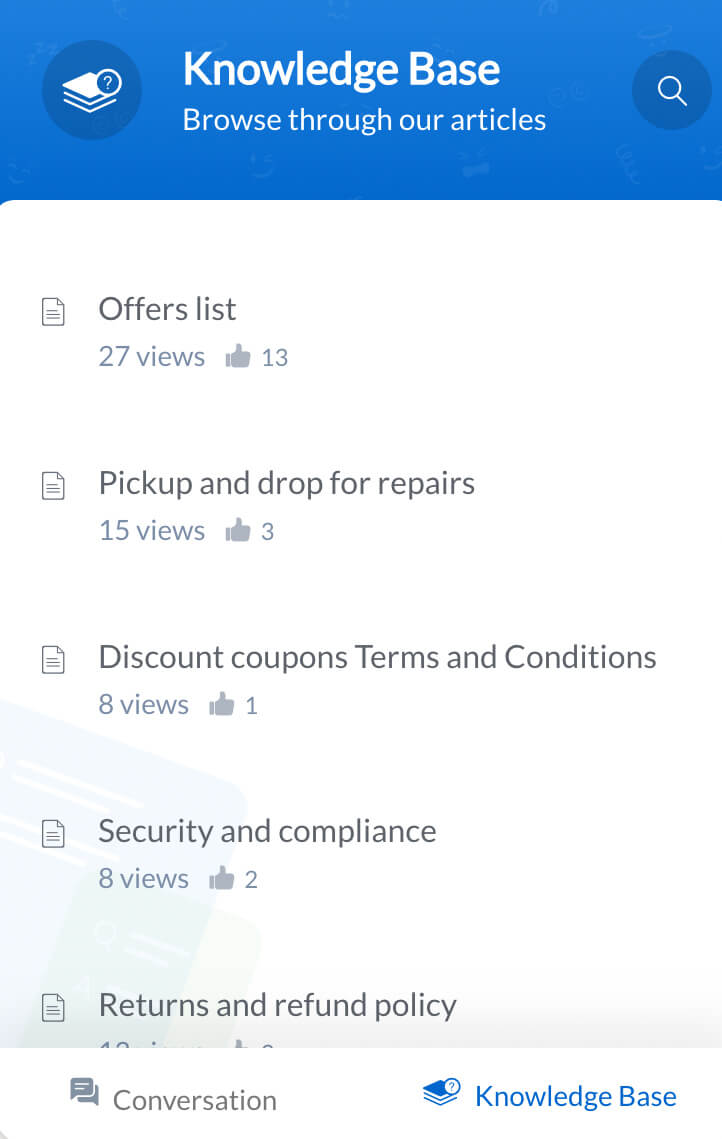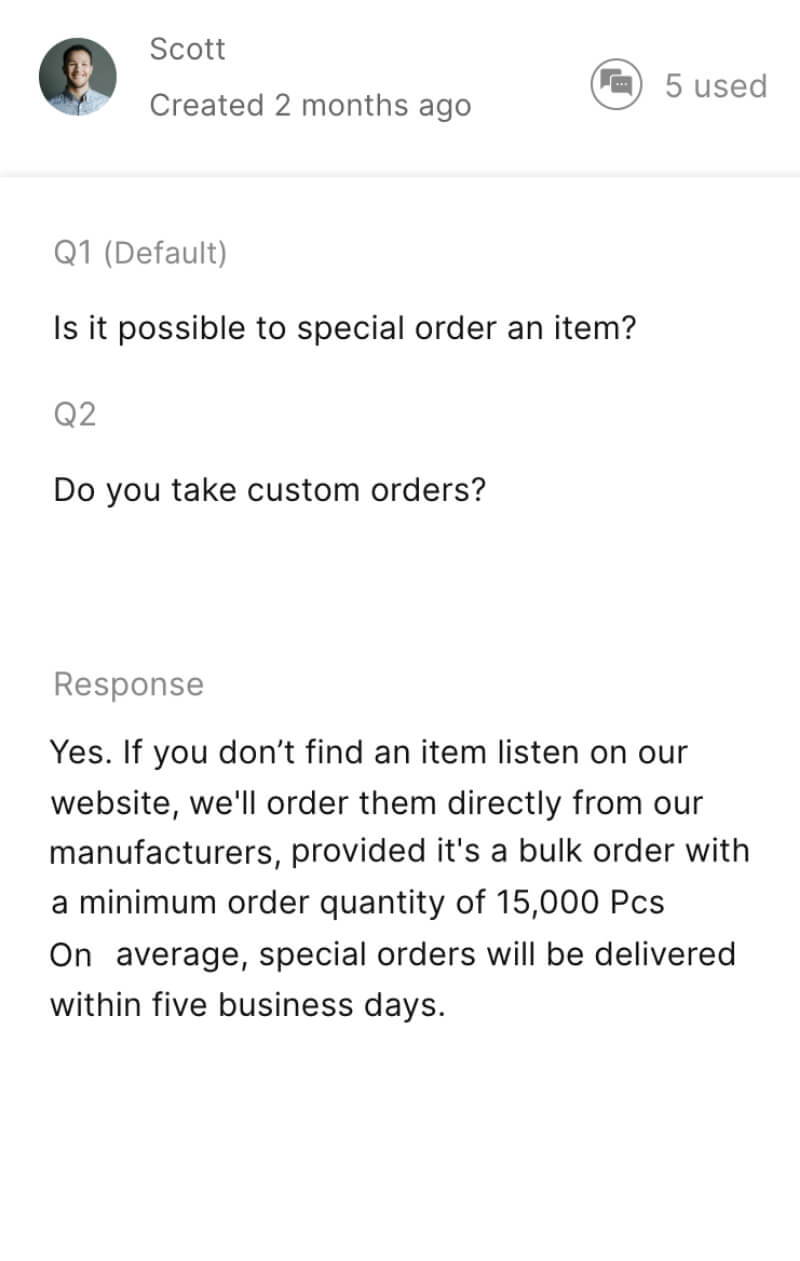 Scale up your visitor engagement with chatbots
Reduce your dependency on human agents by letting chatbots handle basic customer engagement and support. Use our advanced bot builder, Zobot, to build custom chatbots that can initiate great conversations with prospects, nurture them, and handle after-sales support.
Codeless bot

 

Our codeless bot builder was designed with your need for easy-to-use software in mind. With an intuitive UI, all you have to do is define the flow and type in your bot responses and actions.

AI-driven Answer Bot

 

Our show-stealer—Answer bot uses our own AI technology Zia to understand customer queries and answer them using your FAQs and articles. You can also add business terms and small talk responses to make it more human.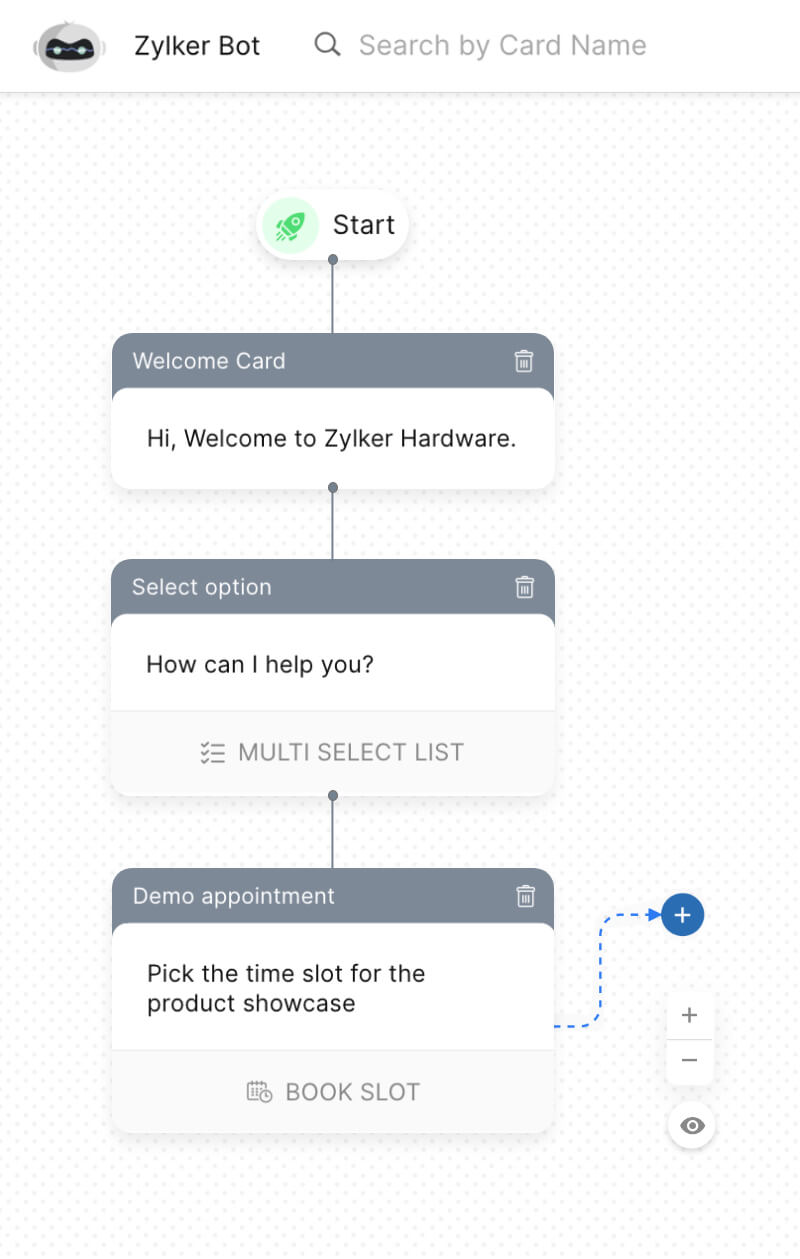 Block spammers targeting new businesses
Your live chat window connects you to prospects and customers, but it also attracts desperate spammers looking to prey on startups. Set up a list of terms often used in spam chats, and any bot chats that encounter these will be automatically closed.
If a spammer still manages to bypass the first stage, you can also manually block their IPs.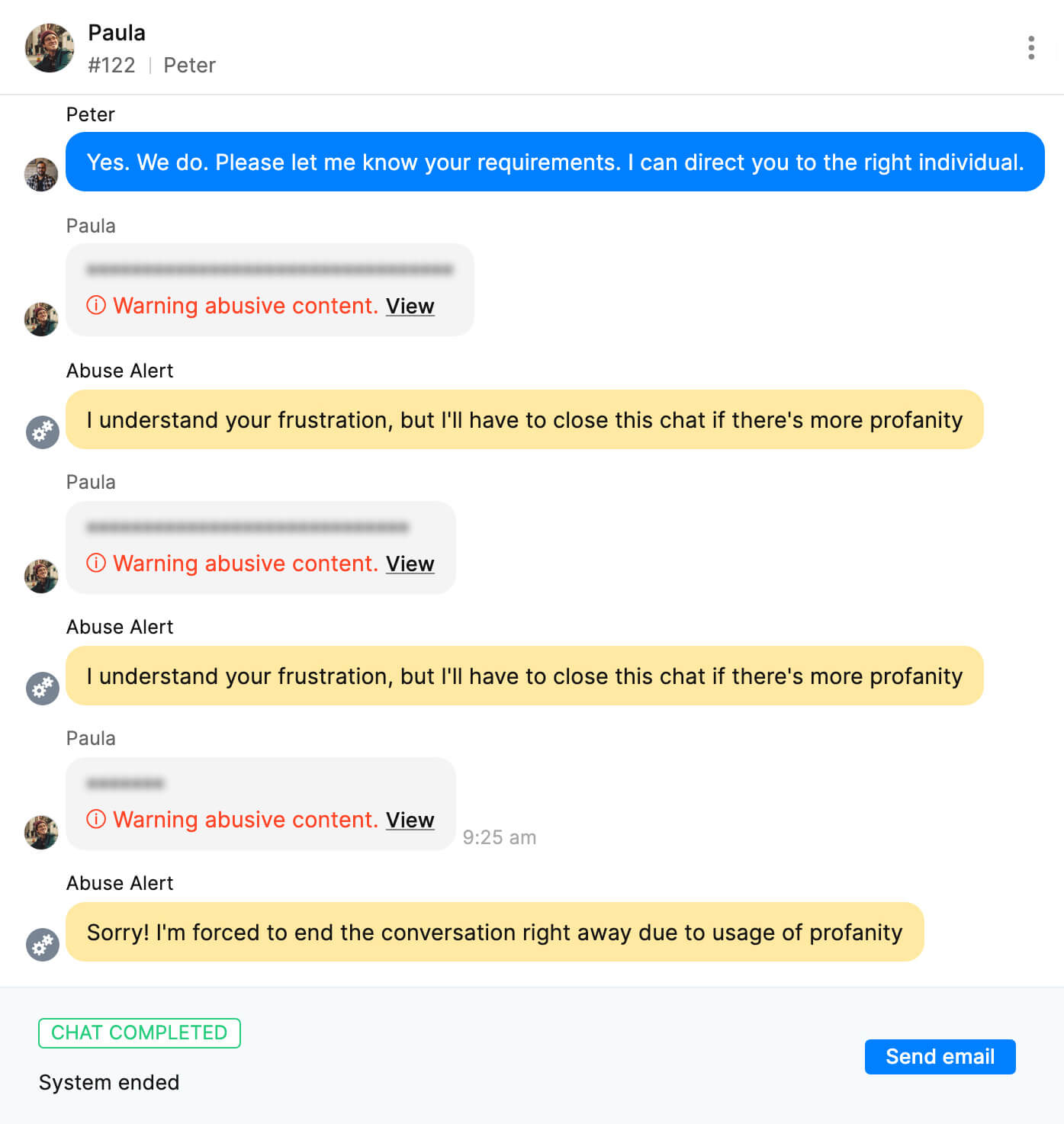 Automate proactive chat triggers
Set up rules to send proactive, personalized messages to hot leads on important pages based on their score, lead stage, actions on the website, and more. Grab their attention and take the first step to conversion. You can even send discount offers to boost customer loyalty.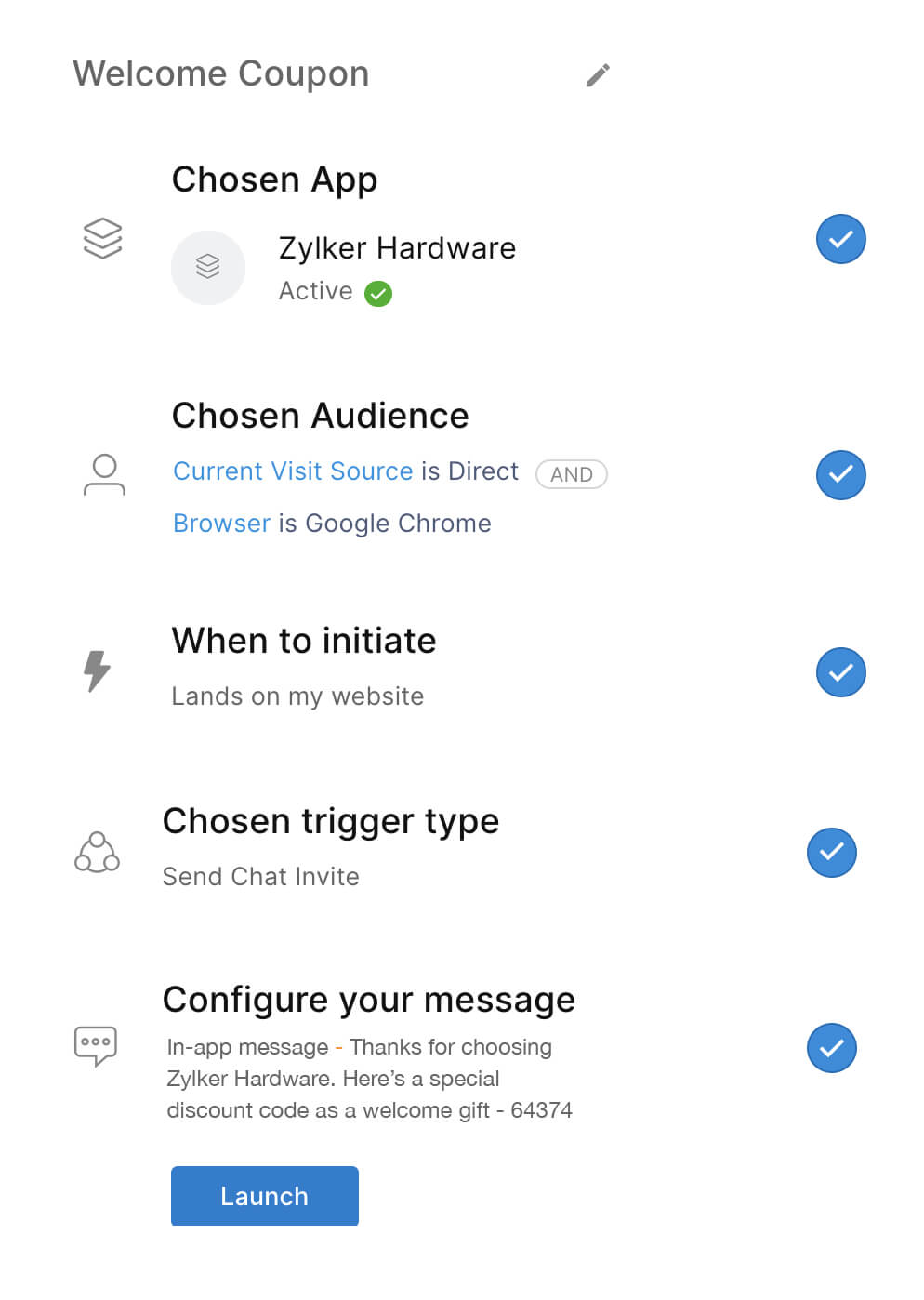 Give customers easy access to older chats
When you're an early stage startup, customer convenience and satisfaction trumps all. With Zoho SalesIQ, you can let customers view all their previous chats with you as separate conversations. They can even continue an older chat from where they left off.
Answer customers quicker than ever
Offer faster assistance to prospects and customers with these time-saving features.
Canned responses

 

Typing the same message to different customers doesn't have to be a regular thing. Save greetings, common responses, and questions and invoke them with a shortcut during chats.

Typing preview

 

Wish you were always prepared for everything you're asked? Typing preview lets you do exactly that. See what customers type in the input field in real time so you can find answers quicker.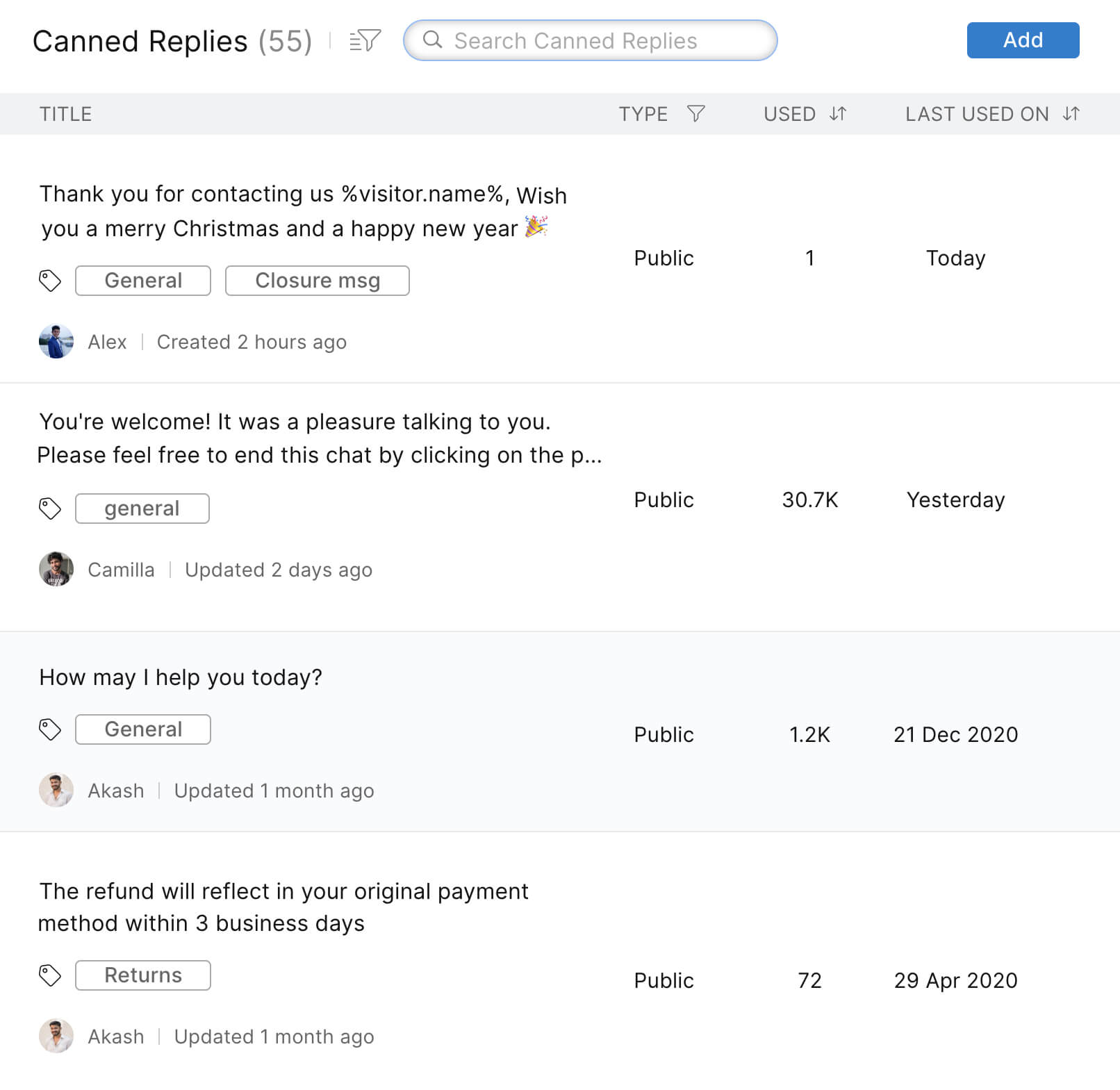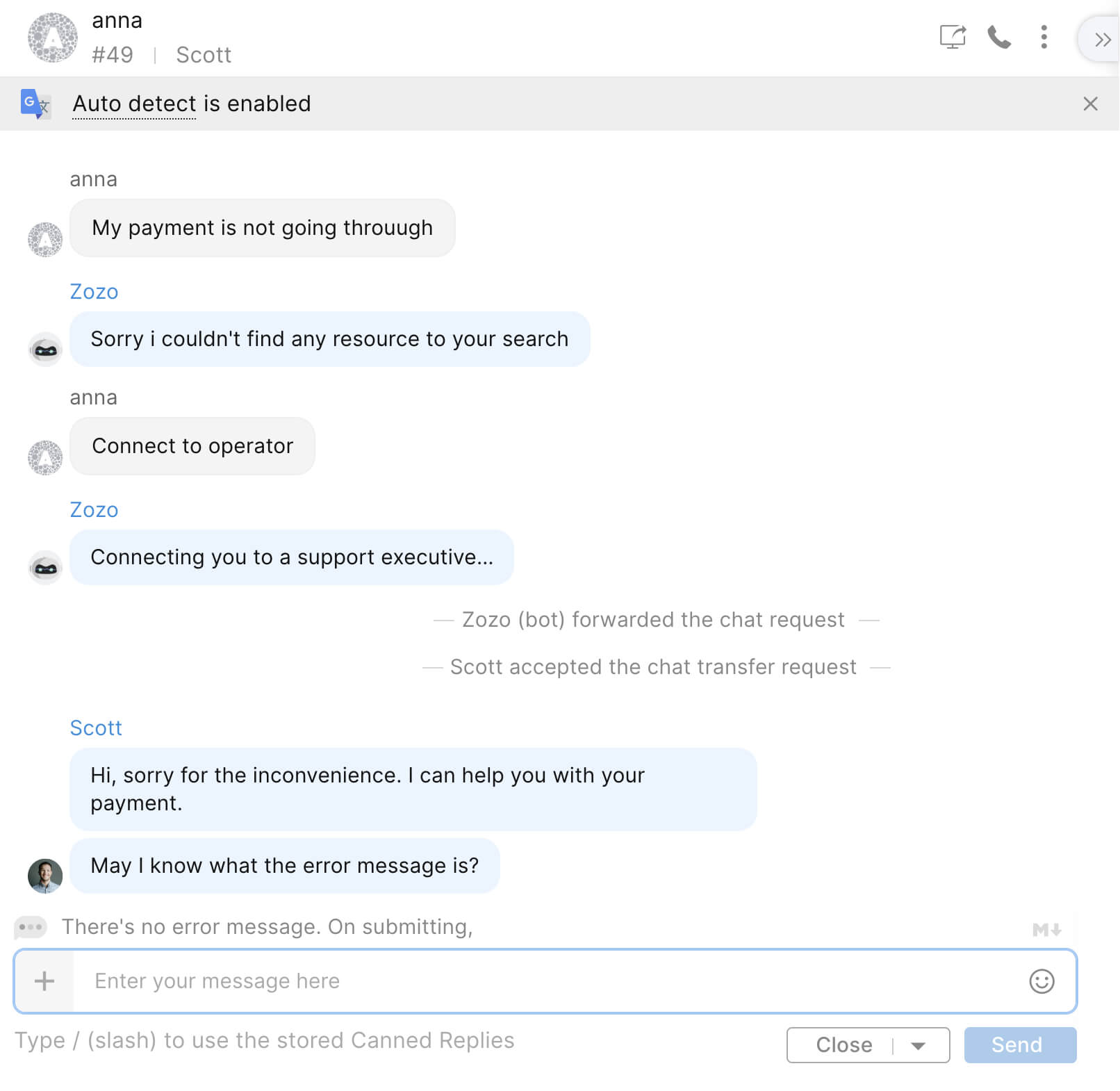 Start off with an organized contacts database
With the constraints that come with running a new business, who needs the extra load of organizing contacts? Zoho SalesIQ categorizes your visitors as leads and contacts along with their recent activity and past chats based on the availability of their email address.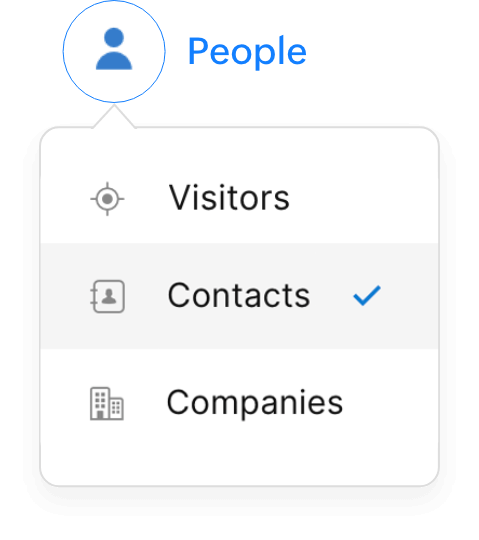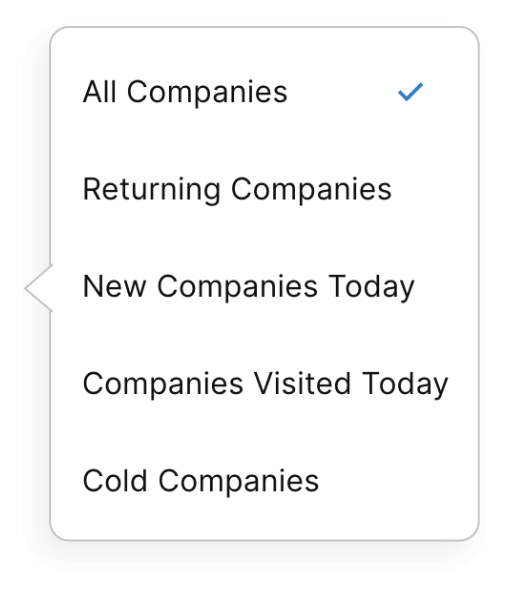 Know more about your business contacts
Our profile enrichment by Zia organizes your corporate contacts company-wise along with their company size, location, industry, social media profiles, the technology the company already uses, and more. We also support Leadberry and ClearBit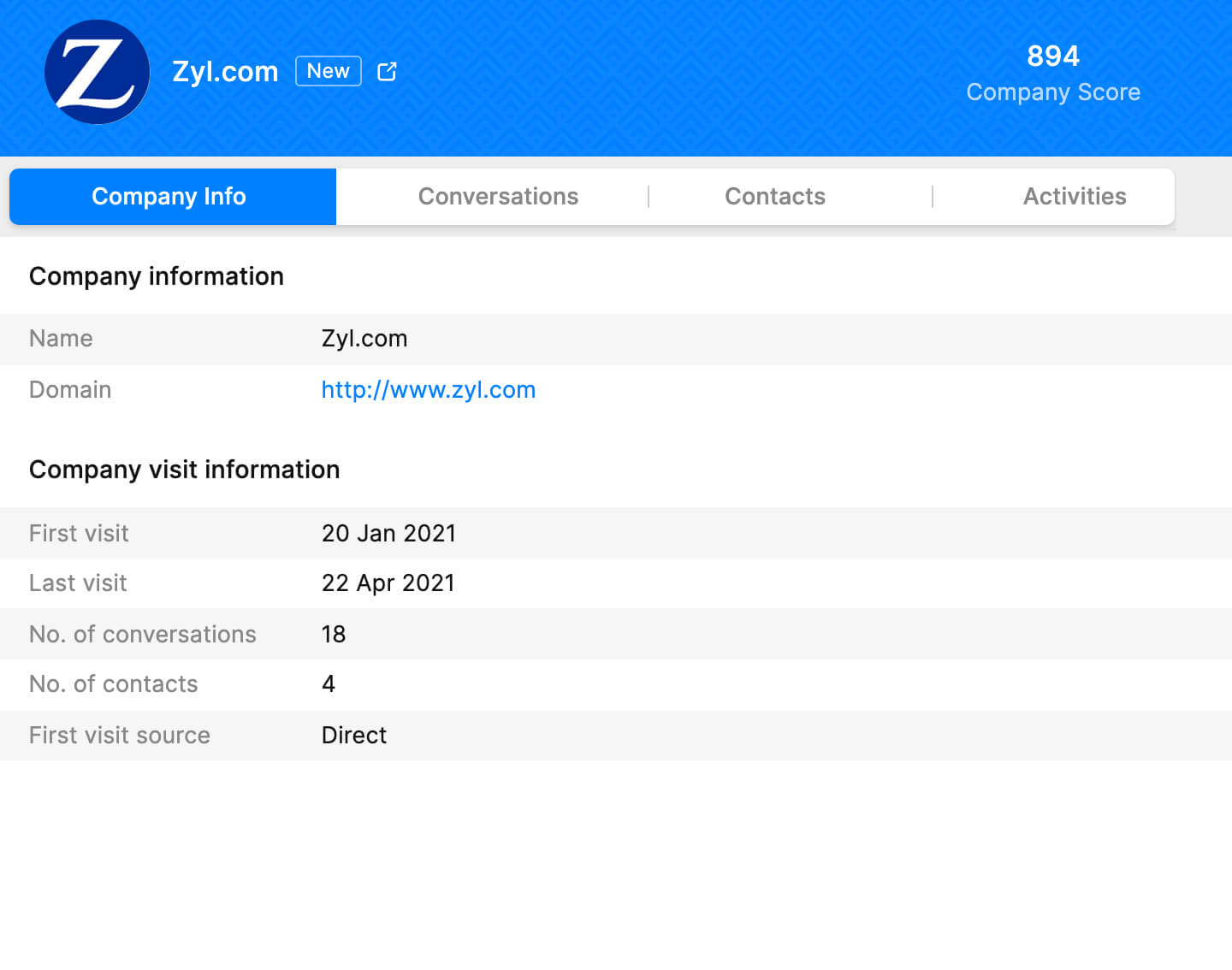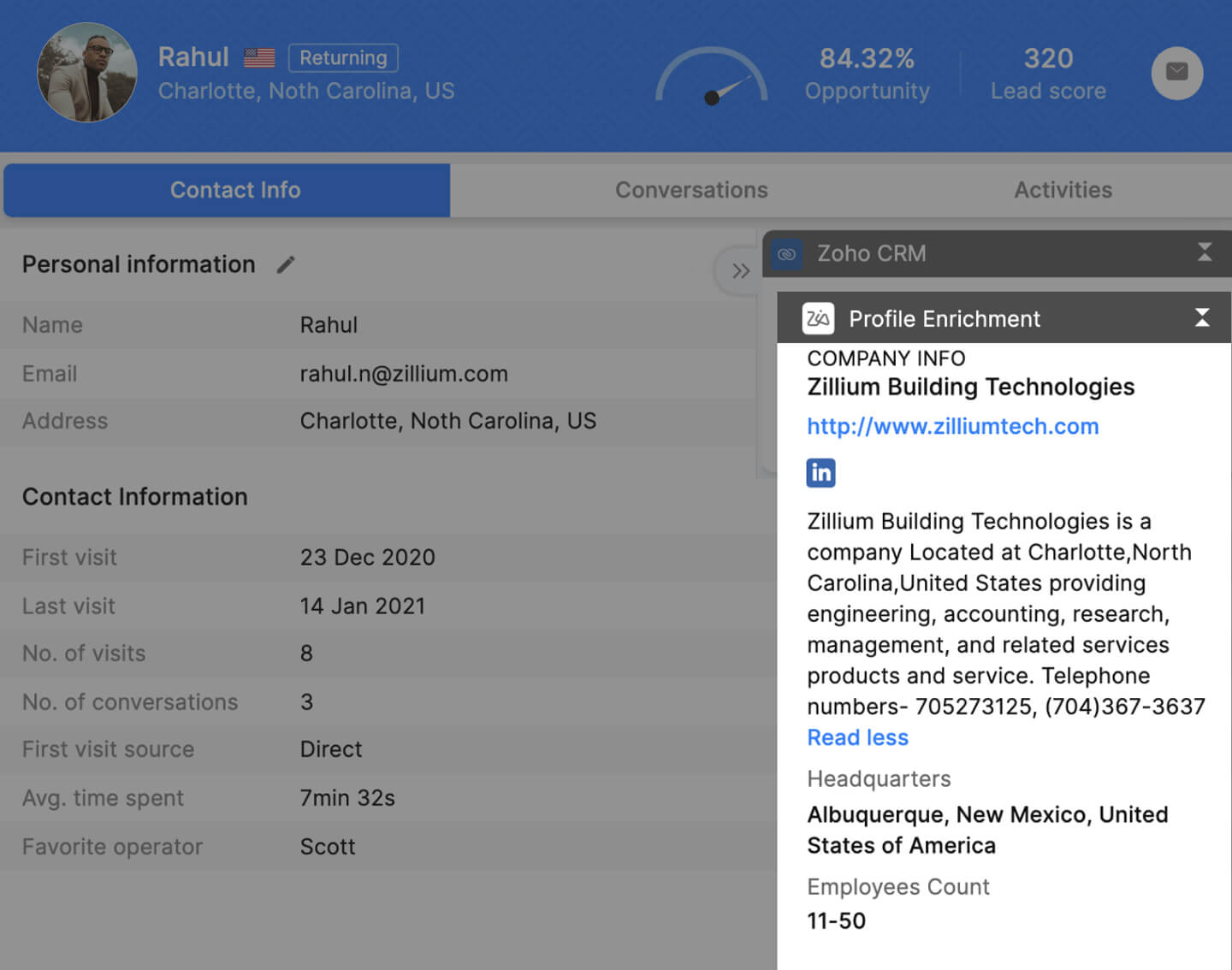 Engage globally with chat translation
Startups are no longer confined by geographical barriers. Expand your reach and delight foreign customers by responding in their native language with automatic chat translation.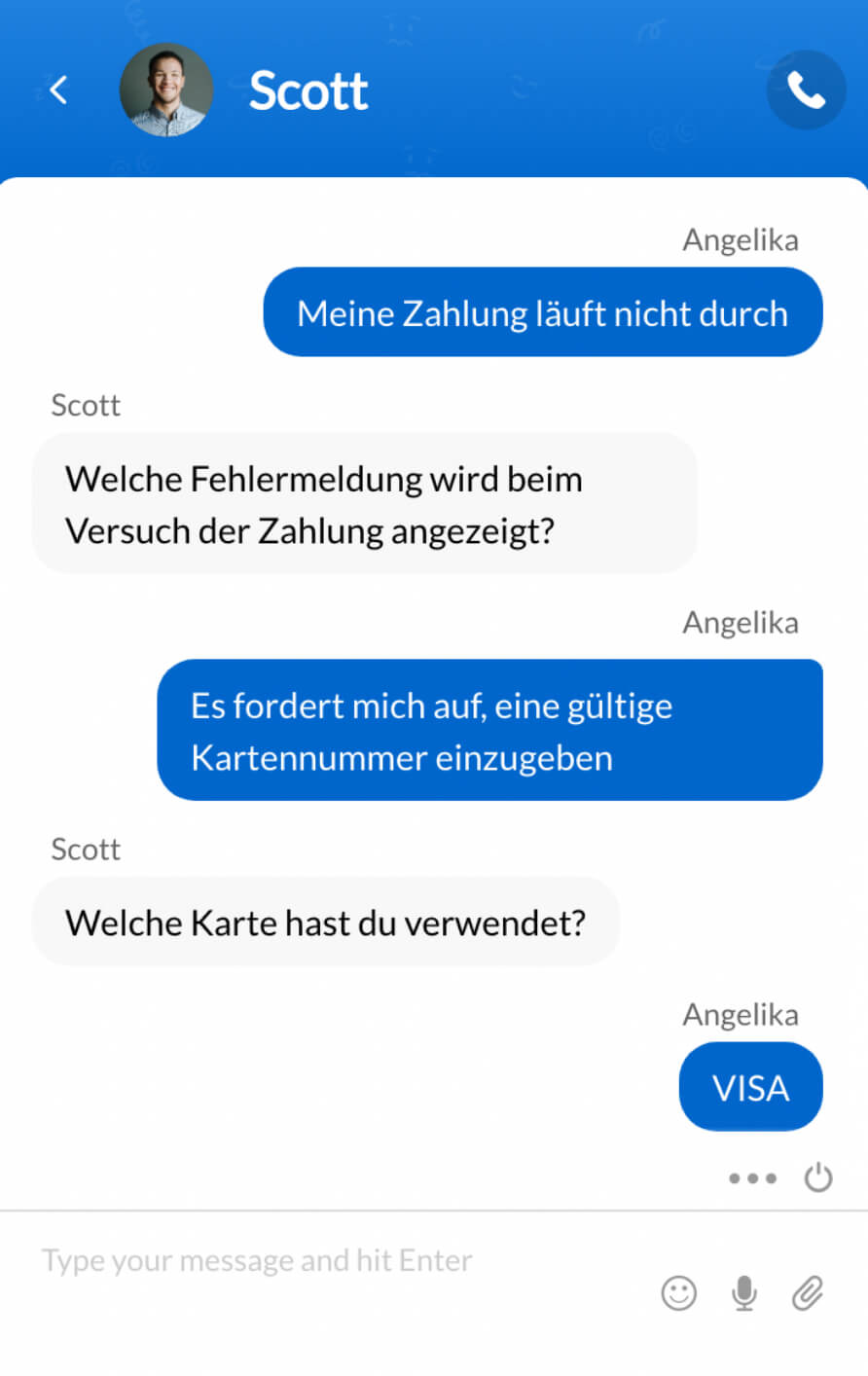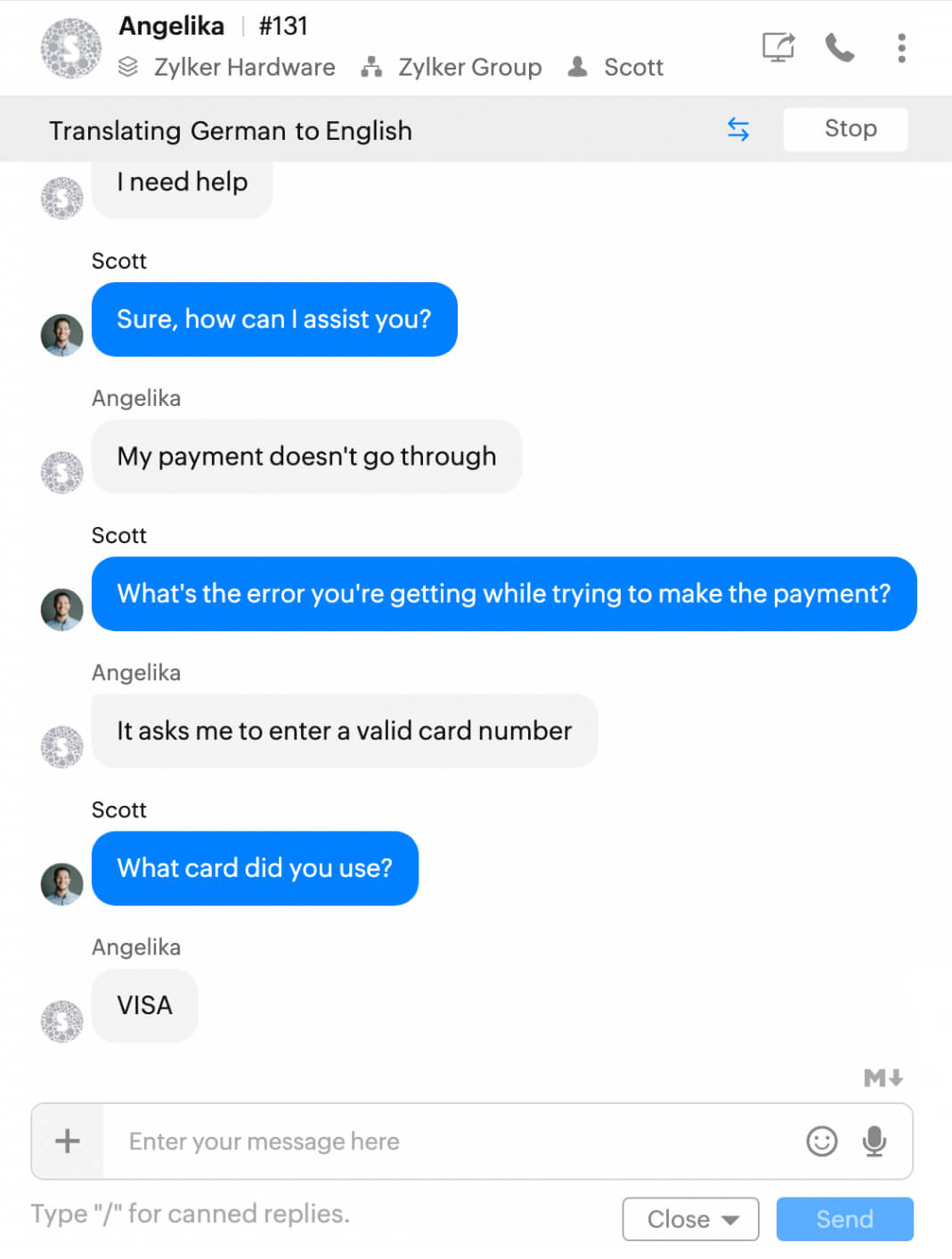 Quick action and data widgets
Create widgets to pull all the details you need about a customer from your databases and display them right beside the chat. You can also perform actions like pushing details to your CRM or scheduling a prospect meeting.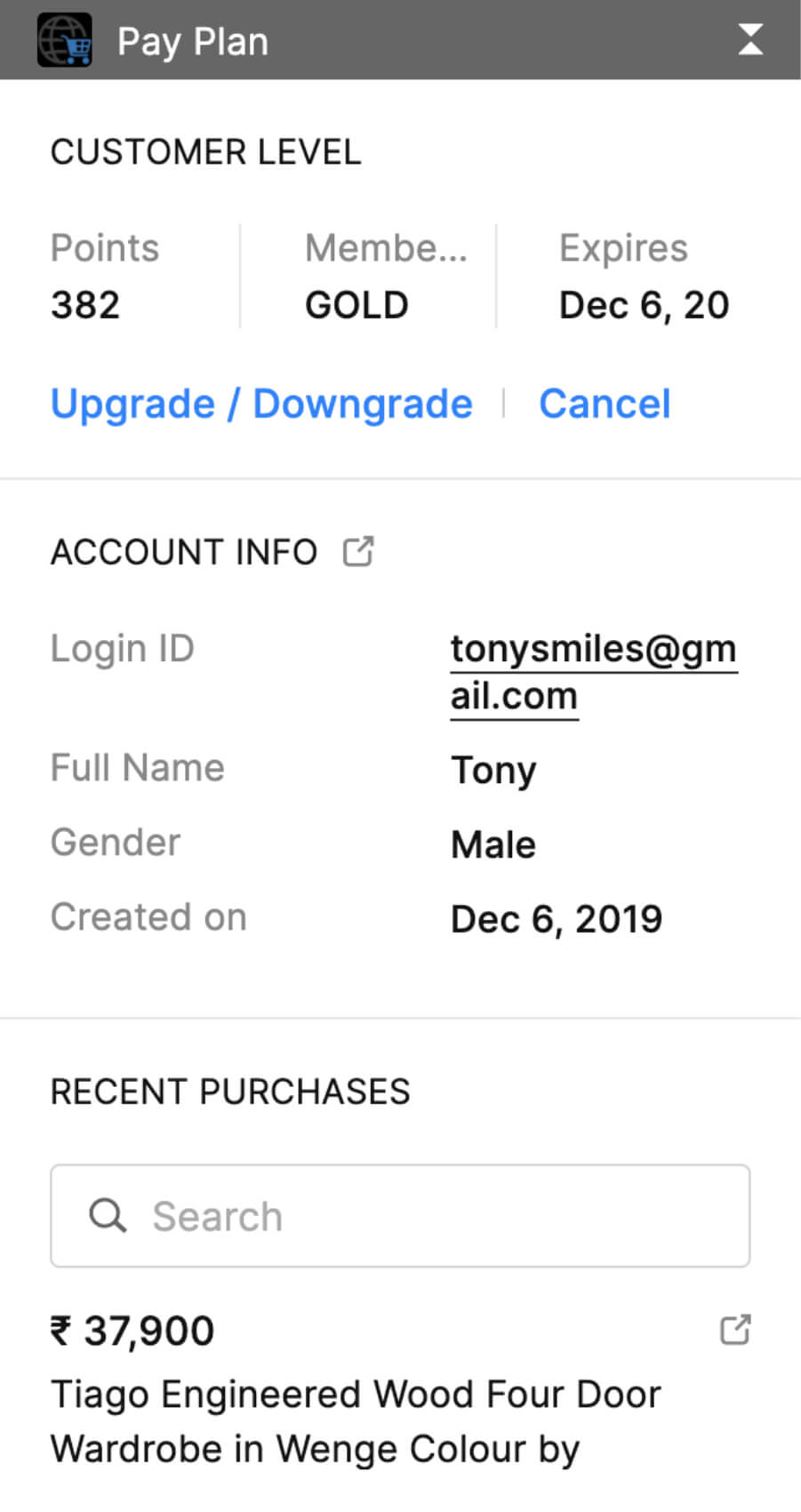 Get the best out of your team
Two heads are better than one—even more so for an early-stage business. Combine your team's expertise and skills to achieve team synergy.
Agent-to-agent chat and message board

 

Zoho SalesIQ comes with an internal chat that lets agents talk to each other individually or as a group. You can also make announcements to the entire team using the message board.

Chat transfer and group chat

 

It's not humanly possible for everyone in your team to be well-versed on your business. Zoho SalesIQ lets agents transfer chats or invite someone to join the chat when they need help.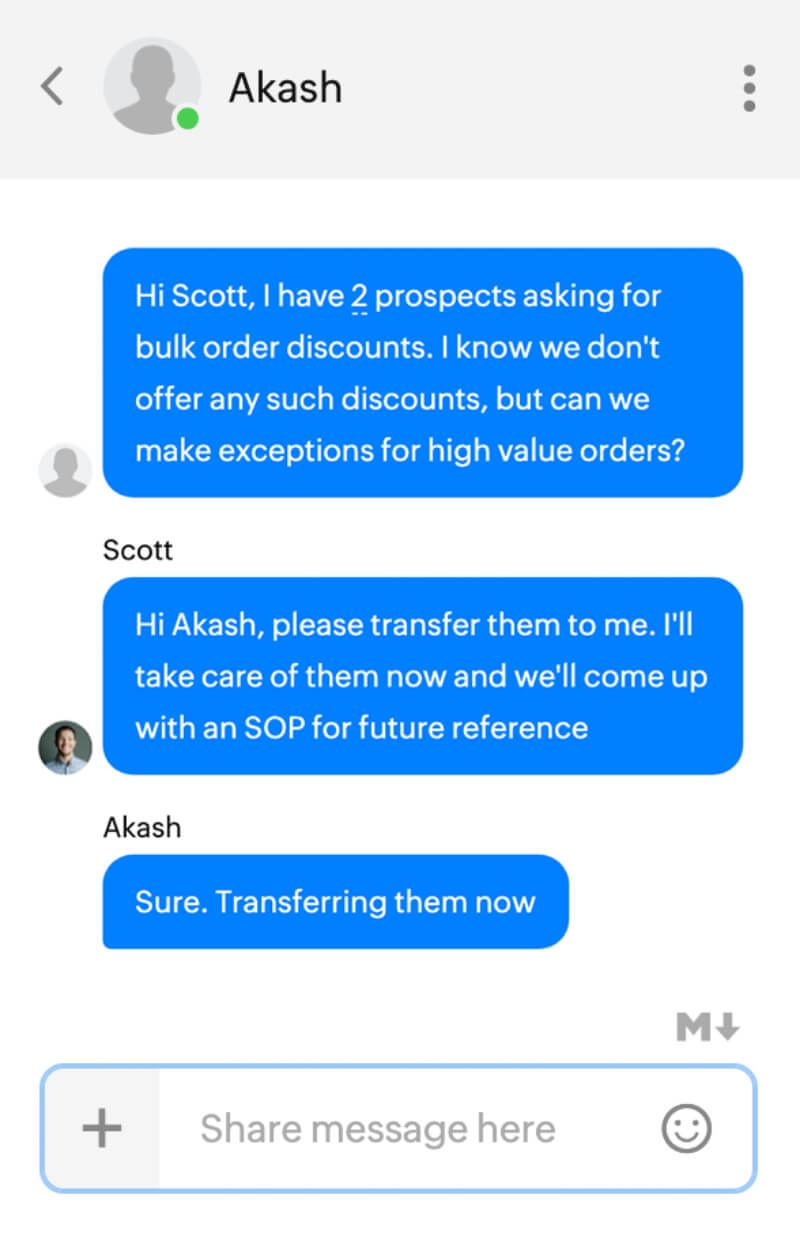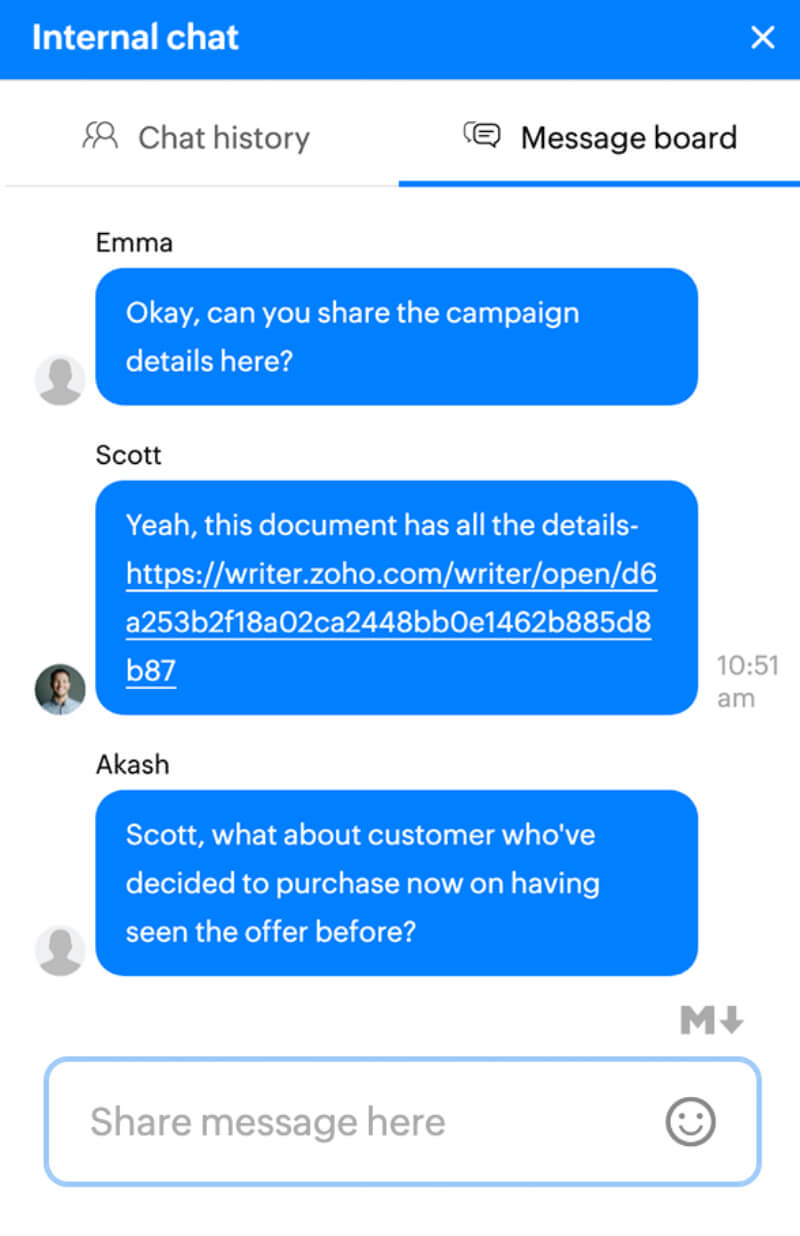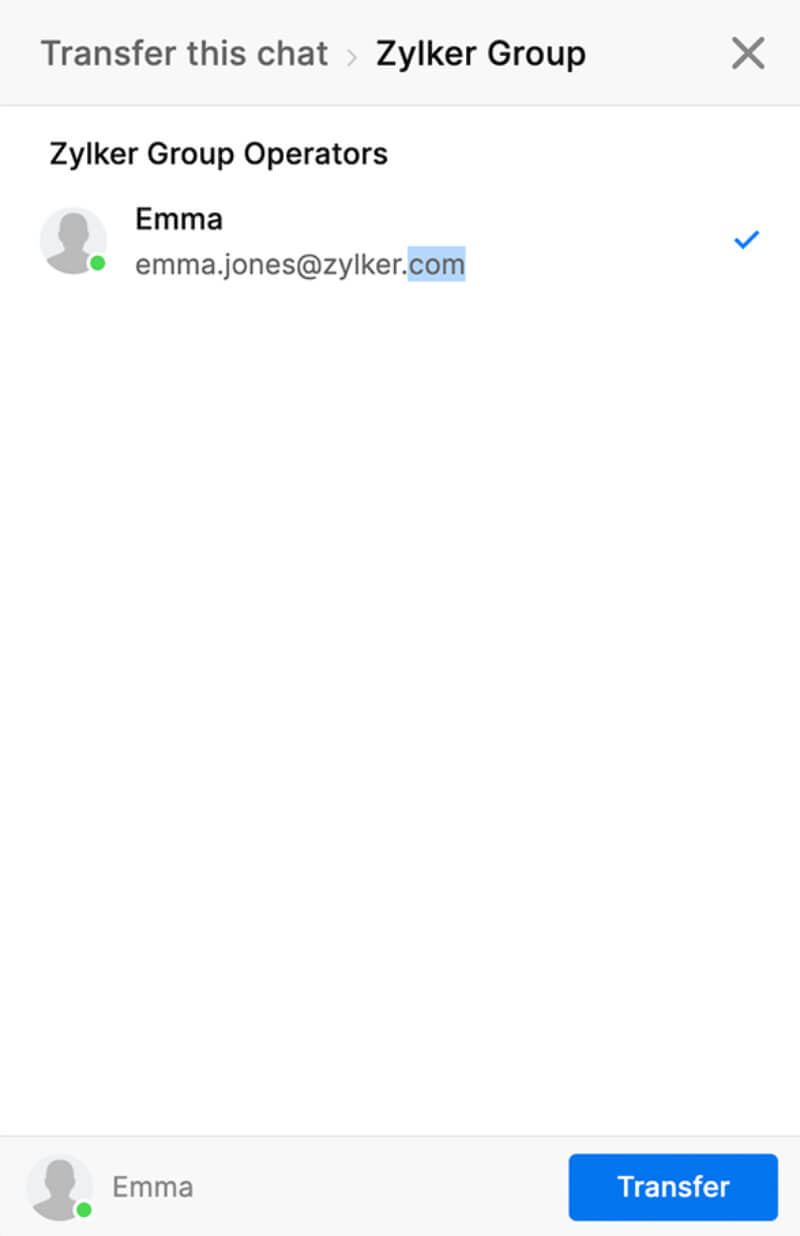 Gather customer feedback
When you're starting out, every single customer experience can make or break your reputation. Use chat feedback to find out how your customers liked their interaction with you so you can constantly work on raising the bar.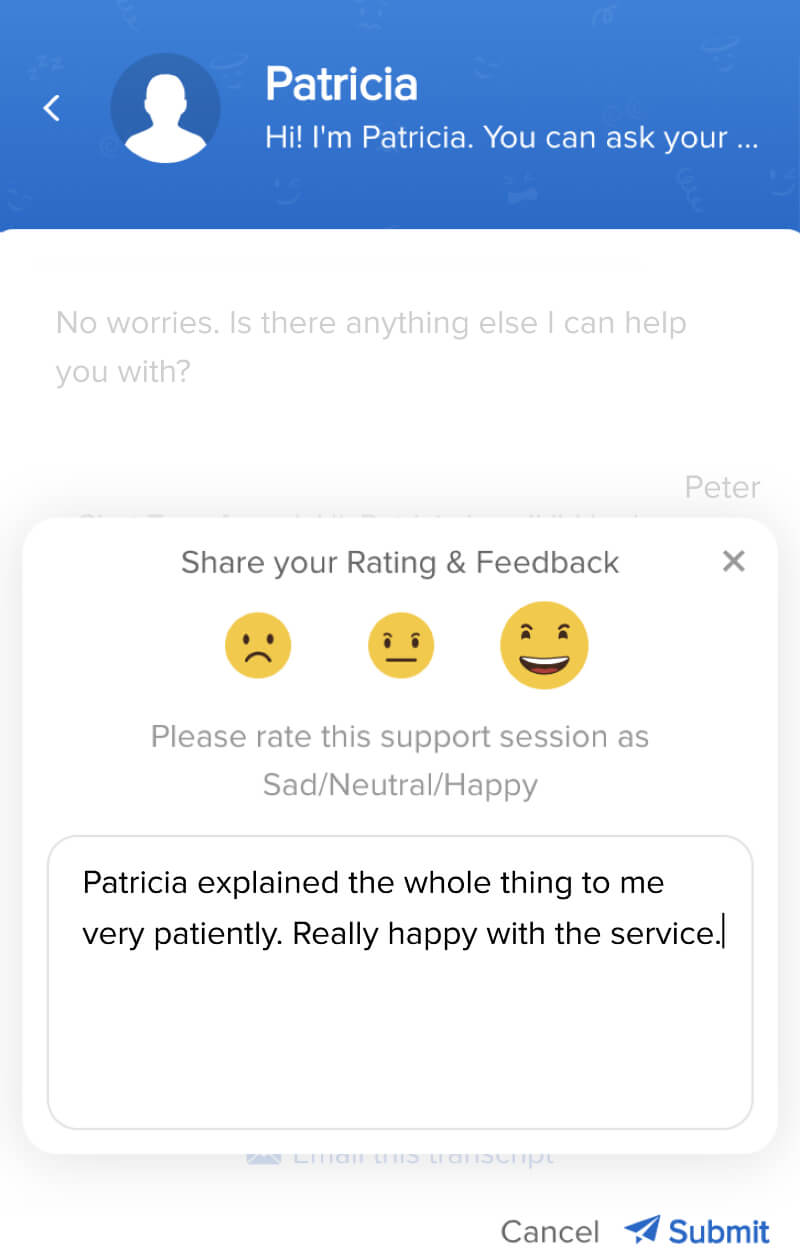 Effortlessly plug Zoho SalesIQ into your tech stack
Connect your CMS, email marketing, help desk, analytics, and CRM software to Zoho SalesIQ so all parts of your business work in tandem.
Learn more

 
Measure the right metrics to hit monthly goals
Track all of your website metrics, prospect engagement, and customer support operation, and derive meaningful insights from this data using our Zoho Analytics integration. Then make the appropriate adjustments needed to hit your monthly goals.